Idaho State University College of Arts and Letters Gala raises more than $48,000 for student scholarships
February 23, 2015
ISU Marketing and Communications
The Idaho State University College of Arts and Letters raised more than $48,000 for student scholarships at the second annual New Year's Eve Gala, and nearly doubled attendance from last year's event.
The Gala was held at the Stephens Performing Arts Center and used most of the buildings unique space. Idaho State University students provided entertainment throughout the evening, and all $48,000 raised will be used for student scholarships in the fine arts and humanities.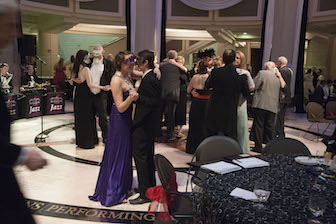 Theatre students performed musical theatre numbers in the Bistline Theatre, and senior showcase students showed attendees what they will perform in New York City next month. Music was constantly playing in the Marshall Rotunda featuring the string quartet, and musical numbers from ISU professors and faculty members Randy Earles, Thom Haspenflug, Vanessa Ballam, Stefan Espinosa and Kori Bond.
"The Gala has opened many great experiences for me," said Jack Johnson, ISU student who received a scholarship from the Gala. "Getting to perform is my favorite part of my craft. Thanks to the gala, I'm more than ready to tackle bigger opportunities and performance challenges."
Students' work was displayed in the visual art gallery, and students from the English department wrote custom poems for Gala attendees. Masquerade performers and sword fighters captivated guests by performing down the Stephen Performing Arts Center stairs.
The ISU Jazz Band rang in the New Year in the Marshall Rotunda where attendees danced to the music of Duke Ellington, Glenn Miller and Ray Charles.
A custom necklace made by ISU first lady Laura Vailas and custom vase by ISU professor Tony Martin were given away to two attendees.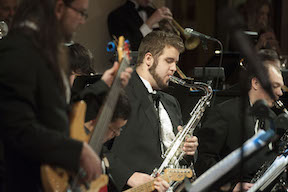 "I think the Gala is great," said attendee Sandi Shropshire. "I came last year and was looking forward to this year's event. I enjoy coming and knowing that my money goes directly to scholarships."
Several community sponsors helped make the Gala possible by donating to the event and purchasing tickets. These sponsors include Farm Bureau Insurance, Mountain View Hospital, Portneuf Medical Center, Idaho Central Credit Union, Pocatello Eye Care, KPVI News 6, Premier Technology, Inc., Southeast Idaho Gastroenterology, P.L.L.C., Charles Evans, M.D., Bank of Idaho, U Med Spa, Warren Willey, M.D., Scott Huneycutt, M.D. and Idaho Power.
"It is important for us to support the community, the arts in particular," said Donna Bergman, vice president of Physician Practices at Portneuf Medical Center. "Studies have shown that students with a background in fine arts show improvement in all educational fields."
Several companies also partnered with the gala to help make it a successful event. These partners include ON Semiconductor, Bell Photography, Chartwells, Safari Graphics, Hayden Beverage, Unforgettable Events, Flowers by LD, Jena Wilcox, Costco and Black Night Limo.
"The way that the community is supporting this event is amazing," said Camie Parsons, senior at ISU studying chemistry and theatre. "They are helping to build a great endowment for students in the arts."
For more information about the College of Arts and Letters' New Year's Eve Gala and how to donate to the New Year's Eve Gala Scholarship Fund, please contact Heidi Jarvis-Grimes at 282-5362.
---
Categories: