Idaho State University Alpha Kappa Psi names Redfish Technology CEO Rob Reeves "Idaho Business Leader of the Year"
January 22, 2015
ISU Marketing and Communications
Rob Reeves, president and chief executive officer of Redfish Technology, Inc. in Hailey is the 2015 Idaho Business Leader of the Year. The professional business fraternity at Idaho State University, the Delta Upsilon chapter, of Alpha Kappa Psi, will recognize Reeves at a dinner in Pocatello on Thursday, April 9.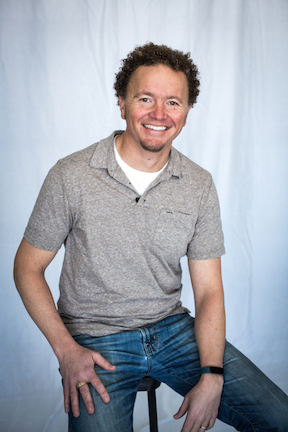 The award annually recognizes an Idaho business leader who has demonstrated outstanding business and professional ethics while contributing significant support to worthwhile community, civic and education activities. Awarded by ISU College of Business students since 1959, previous honorees have included a congressman, former governors, entrepreneurs, and leaders of some of Idaho's largest companies. The recognition program is the longest-standing one of its kind in Idaho.
Reeves founded Redfish Technology, Inc. in 1996 as a predominately Silicon Valley-focused tech recruiting company. The company has become a full-service nationwide high tech recruiting and staffing company. Redfish Technology provides a progressive recruiting service, creating a partnership with their clients and upholding the highest standards of honesty, integrity, excellence, and performance.
Reeves has not only started a highly successful company but has created an excellent work environment. He supports the community personally and through his employees.
Employees have flextime and may use work time for volunteer projects.
Reeves created an employee-driven program called One for One that gave $100 and at least one hour of volunteer time to a local community or charitable organization for every professional placement made by a Redfish recruiter. During its time, One for One gave time and donations to such organizations at Higher Ground, the Animal Shelter, and The Sun Valley Ski Education Foundation.
Reeves' One for One program was so successful it grew and became the Pay It Forward campaign. The Pay It Forward program still donates $100 for every successful placement by a Redfish recruiter into the Pay It Forward fund. Employees use the money to anonymously perform acts of kindness throughout the community, such as paying for a random layaway, buying soccer shoes for kids in need, or paying for someone's cup of coffee. When acts of kindness happen, employees leave a card asking recipients to pay it forward to others in the community.
Reeves has also donated his time locally, serving on the board of Company of Fools Theater for two years, supporting The Mountain School and the new Waldorf-inspired charter school, and volunteering his time and financial support for the Syringa Mountain school. He gives to The Advocates, an organization that builds a community that is free from emotional and physical violence, and to the Share Your Heart fundraiser for Camp Rainbow Gold, a camp for children diagnosed with cancer and their families.
Reeves' commitment to his employees his community made Redfish one of the Idaho Business Review's Best Places to Work in Idaho in the Micro Companies category in 2014 and 2013. Additionally, POPLUS and recognized Redfish as one of the 10 Most Dependable Staffing Firms according to Goldline Research.
Reeves believes in a unified workplace, and one percent of gross sales fund team building events. In 2013, the fund paid for the entire team to train together and run the Rock 'N' Roll marathon in Las Vegas. They stayed and celebrated their success and completed their race of choice – a half or full marathon.
This focus on individual and team goals, as well as having fun outside the office, has helped Reeves build team attitudes that sustain the business through changing market conditions.
---
Categories: