Idaho State-Civic Symphony March 21 concert features banjoist Bela Fleck, premiere performance of Harville's 'The West Bench'
March 5, 2015
ISU Marketing and Communications
The Idaho State-Civic Symphony "All-American Composers" concert at 7:30 p.m. March 21 in the Stephens Performing Arts Center Jensen Grand Concert Hall will feature a performance by guest artist banjoist Bela Fleck and a premiere performance of a composition by symphony artistic director and conductor Grant Harville.
Fleck, considered by thousands of fans worldwide to be the "best banjo player on the planet," recently expanded his horizons by composing music, not just for banjo, but for banjo and orchestra, "The Impostor Concerto."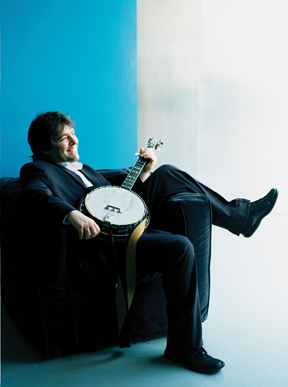 Fleck's appearance will be the first time the Symphony has engaged a banjoist as a guest artist and the first time a concerto for that instrument and orchestra has been performed in Pocatello.
The Symphony will also perform Harville's newest composition "The West Bench," named for Pocatello's western hillside area. Patrons can learn more about the evolution and creation of this work by attending the pre-concert event and hearing from Harville.
The evening's program will also feature famous 20th-century American composer Aaron Copland, renowned for his celebration of American music in a distinctive musical blend of classical, folk, and jazz elements. Conductor Harville has chosen Copland's "Appalachian Spring," which won Copland a Pulitzer Prize and the Music Critics Award in 1945.
Harville will provide pre-concert remarks and answer questions from the audience from 6:30 p.m. until approximately 7 p.m., when the doors to the Jensen Grand Concert Hall will open. Beverages, desserts and snack plates available for purchase during the pre-concert presentation.
Ticket prices are $34 per adult; $18 for students through high school; $12 for third-tier balcony. A limited number of $18 RUSH tickets (seating in Rows T-CC assigned by the Box Office as available) will be sold after 7 p.m. the night of the concert.
All prices are subject to additional box office fees and credit card charges. ISU students with valid Bengal ID are admitted free.
For tickets and information, contact the ISU Box Office at 282-3595 or Vickers Western Store, 1460 Yellowstone, Pocatello, phone 237-5700. Tickets are available online at www.isu.edu/tickets. All prices are subject to additional box office fees and credit card charges.
More information on this and other Idaho State-Civic Symphony events is available at www.thesymphony.us.
---
Categories: