Idaho Museum of Natural History 'Evolving Idaho' exhibit grand opening June 13 features prizes, raffles, food
June 5, 2015
ISU Marketing and Communications
The Idaho Museum of Natural History on the Idaho State University campus in Pocatello will hold a grand opening for its new exhibition "Evolving Idaho" from 11 a.m. to 5 p.m. Saturday, June 13.
The grand opening celebration will offer swag bags for the first 30 visitors, "balloon pops" with prizes, raffles, educational activities, food from Big Mama's Food Truck, treats and desserts from Bob's Polar Express, and more, as listed below.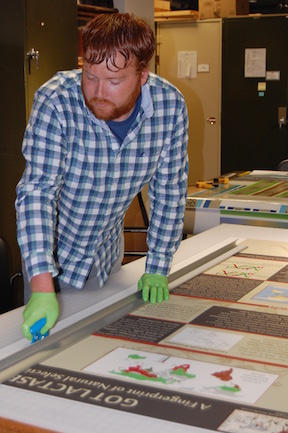 "Evolving Idaho" explores how evolution has shaped the diversity of Idaho's plants and animals, showcasing some of their amazing adaptations to Idaho's environment through interactive modules that feature evolution occurring in Idaho residents' own backyards.
Museum guests will learn about evolution and ecosystems on the IMNH's brand-new touch table, get a microscopic look at the legs of a snake, take "selfies" with giant DNA strands, and much more.
The complimentary swag bags at the grand opening will have discount coupons to the food trucks and various local businesses.
The opening will also feature a "balloon pop" raffle. Participants will be able to buy a balloon with a certificate for a prize inside donated by local businesses that they can get by popping the balloon. Balloon pops are $1 per child balloon, $5 per adult balloon and $10 per mega balloon. Proceeds from the balloon pops will aid in funding the IMNH's next traveling exhibition from the collections of the Smithsonian Institution, "Titanoboa: Monster Snake," opening March 2016.
Participants at the grand opening can enter a raffle to win the "Art of Natural History," a weeklong partial-day camp for children that is filled with projects such as fish printing, fossil making, beading and nature journaling. Raffle tickets are $1 per ticket or $5 for 6 tickets. Proceeds from the raffle will benefit the IMNH's educational programming and will provide means to update educational supplies.
Local businesses and organizations donating prizes for the grand opening include Deleta Skating and Family Fun Center, Lava Hot Springs Hot Pools and Swimming Pool, Tough Guy Lanes, Ross Park Aquatic Complex, Reel Theatre, ISU Games Center, Pizza Pie Cafe, Papa Murphy's, Kaitlyns Hairwear, Chalk Horse Lounge and Billiards, Bill's Beans, Gold's Gym, The Parlor Hair and Nail Boutique, Balsamroot Massage, Mystique Performing Arts and Events Center, Pocatello Zoo, and The Outback Golf Park.
Admission to the museum is $5 for adults, $4 for seniors, $2 for Idaho State University students, and $1 for children K-12th grade.
For more information on this exhibit and its grand opening, contact Faith Tan at 208-282-3168, email imnh@isu.edu or visit the website at www.imnh.isu.edu.
---
Categories: