I Chose ISU: Clarissa Enslin, geosciences master's student
June 25, 2015
ISU Marketing and Communications
A South African native and an All-American swimmer as an undergraduate, Idaho State University master's student Clarissa Enslin chose ISU because of the quality of the geoscience program.
"When I heard that I had the opportunity to work with leading experts in my field of study, that was a driver for me," said Enslin, who is pursuing a Master of Science Degree in geosciences with an emphasis in environmental geosciences. "Those experts are my advisors, Shannon Kobs Nawotniak and Sarah Godsey."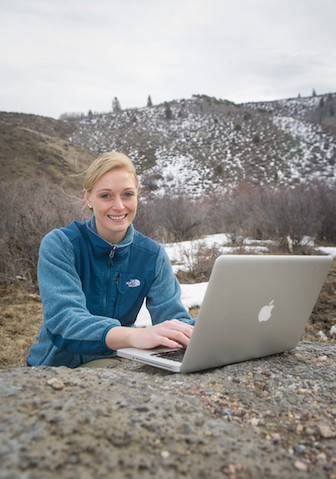 Nawotniak and Godsey are both assistant professors in the ISU Department of Geosciences. Enslin is working with them on a virtual watershed project to make better, easy-to-use computer models of Idaho's and the West's snowpack to help water users plan better.
"I am working with an energy-and-mass balance snow model called ISNOBAL and an extensive dataset from the Reynolds Creek Critical Zone Observatory in southwestern Idaho," Enslin said, "to look at the effects of extreme precipitation events on the amount of snow present in a rain-snow transition zone."
The title of the project she is working is the Western Consortium for Watershed Analysis, Visualization and Exploration (WC-WAVE), a National Science Foundation project funded through the EPSCoR program.
Enslin is looking through time-series data from various meteorological stations within the watershed, as a part of quality control. The data has to be checked for any errors before being used in the model. She will use this information to generate inputs for ISNOBAL.
"I am learning a lot of snow science and how to represent natural systems by (computer) programming," she said. "Being able to model natural systems is very hard to do – you never get it 100 percent correct – but the closer we can get, the better."
Enslin earned her undergraduate degree from California University of Pennsylvania, in California, Pennsylvania. She earned NCAA Division II All-American status three of the four years she was there, finishing in the top eight nationally in swimming events. Her specialty events were the sprint freestyle races, at distances of 50, 100 and 200 yards.
"It was hard balancing time between your practices and doing assignments and all the extracurricular activities, but I made it work," she said.
She is satisfied with more than the academics she has encountered at ISU.
"I definitely couldn't be happier because I have been exposed to so many thing that I have not done before," Enslin said. "I was in a (downhill) skiing class, which I had never done, and I enjoy the rock climbing and trail running in my spare time."
As for her future after ISU, when she has that master's thesis complete, she is exploring options.
"I think I want to work for a year in environmental science position working with water resources and then possibly go back and do my Ph.D.," Enslin said. "I think I'll want a break before pursuing a Ph.D."
---
Categories: