Anntara Smith: I Chose ISU, physician assistant studies
June 4, 2015
ISU Marketing and Communications
On a sunny April morning, Idaho State University's Anntara Smith swings by Central District Health in west Boise.
She's meeting with a physician assistant studies student who is completing a five-week rotation in obstetrics and gynecology.
"It's an opportunity to visit with the student, get an idea of the type and number of patients she's seeing and talk to her preceptor," said Smith.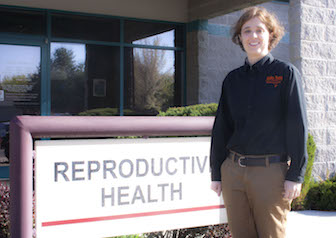 Preceptors are the volunteer doctors, nurse practitioners and physician assistants who provide health professions students with hands-on experience before they graduate.
A little more than a decade ago, Smith was an ISU student herself, earning a bachelor's degree in physician assistant studies in 2003. The program has since discontinued the bachelor's degree and offers the master's degree.
"I think I wanted to be in academia from the time I graduated. I always felt I wanted to return and teach once I got more experience," she said.
Smith, who is based on the ISU-Meridian campus, did just that. After working in private practice for several years, she returned to ISU as an instructor. In 2012, she became the program's clinical coordinator, securing preceptor sites and matching students in Pocatello, Meridian and Caldwell to clinical rotations.
Her passion for health care was shaped by an interest in science and a childhood in Boise that featured every critter imaginable—dogs, cats, horses, chickens and rabbits. At first she thought she'd be a veterinarian, but found she preferred the "the human side of medicine""and switched to physician assistant studies.
Smith, who holds a master's degree in physician assistant studies from A.T. Still University in Mesa, Arizona, enjoys working at ISU and interacting with students, faculty and staff.
"It's a very friendly and driven community. Everyone works to help each other, to improve themselves and enhance ISU's reputation," she said.
Smith has done her part to spread Bengal pride. She served on the alumni board for four years, working to connect alumni in the Treasure Valley.
"I feel very strongly that the education I received at ISU was top notch and we can compete with anyone in terms of education," she said.
---
Categories: