Acrobatic aerial silks add dimensions to ISU graduate Yiran Wang's education
May 4, 2015
ISU Marketing and Communications
Yiran Wang didn't come from China to Idaho State University to study acrobatics, but a chance encounter with a class in Pocatello changed her life.
Wang, who is graduating this spring with a bachelor's degree in statistics, took an acrobatics class in Pocatello, and, while there, learned about the art of aerial silks, a theatrical and athletic sport where performers climb to great heights on long rows of fabric, performing acrobatics while suspended. For Wang, the experience was indescribable. She is afraid of heights, and never liked twirling, but when she tried aerial silks, she was hooked.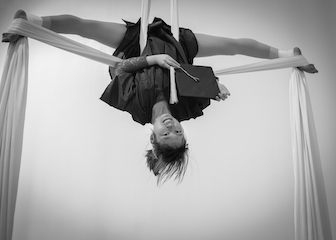 The art has given her a sense of freedom, and the ability to think independently, she said.
"I never thought of it when I was in China," she said. "Aerial silks totally changed my life. It's a connection. It's magical. It's meant to be."
Wang studied aerial silks in Pocatello, then, when her instructor moved, traveled six hours every week, commuting from Pocatello to Sandy, Utah to learn more. Today, she teaches aerial silks in Pocatello to children ages 7 to 17 at MP Dance Company. She loves sharing her passion.
"They love to learn it. They're passionate about it," Wang said. "I'm so glad I can be a part of that."
When she is not in the air, Wang is busy in the classroom, maintaining a 4.0 grade-point average. She plans to attend graduate school in the fall, and is interested in data science and statistical computing.
She has also been a cultural ambassador of sorts. Each year, Wang, who has danced since she was a child, performs for Chinese Night, one of many student-sponsored cultural nights at ISU. Although she was disappointed that more Chinese students didn't dance, she has been able to teach others to dance at Chinese Night. Chinese Night also gave her the opportunity to choreograph, which was a new experience.
"I never choreographed a dance when I was in China," she said.
Aerial silks and statistics have provided a wonderful balance for her life, Wang said.
"When my body hurts from silks, I can do statistics. When I am tired from statistics, I can go do my silks," she said. "They are both challenging."
---
Categories: