Opera Idaho to perform Mozart's 'The Magic Flute' Nov. 6 at the Idaho State University Stephens Performing Arts Center
October 21, 2015
ISU Marketing and Communications
POCATELLO — Opera Idaho will be in Pocatello to perform Mozart's "The Magic Flute" in Idaho State University Jensen Grand Concert Hall of the Stephens Performing Arts Center on Friday, Nov. 6, at 7:30 p.m.
"'The Magic Flute' is such a great introduction to opera, especially for children, and that's actually one of the things I hope to see," said Diana Livingston Friedley, professor of vocal studies at ISU. "This is a very family-friendly show, so families, bring your kids to this opera. If you've never gone to a musical, if you've never been to an opera, this is the one to bring them to because it's so kid friendly."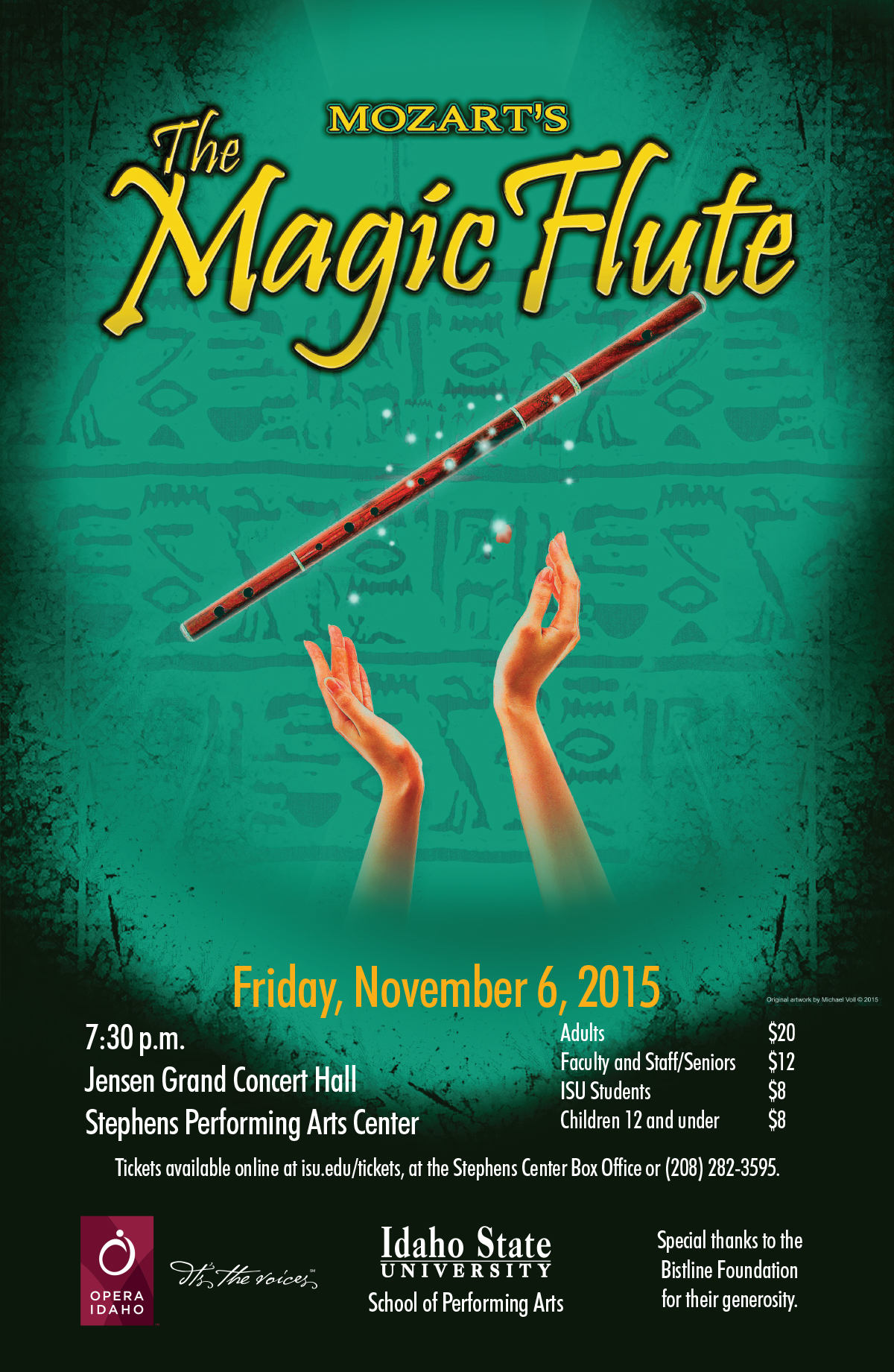 Mozart's "The Magic Flute" includes representations of all voice parts from one end of the spectrum to the other, according to Livingston Friedley, with a four octave-range on the piano.
"It's an enormous range that Mozart used to embrace the music of this show, which is really neat," said Livingston Friedley. "You get a character, for example, like the Queen of the Night, who sings as high as humanly possible, and then you have the King Sarastro who sings as low as possible and everybody in between. Listeners will get to experience all of these different voice types in the scope of his work."
"The Magic Flute" is appropriate for all ages and will be performed in English with supertitle text above the stage for the audience to follow along with.
"People often get a bad taste in their mouth when they hear the term 'opera,' said Livingston Friedley. "We don't want that. People sometimes think that they're going to be watching very heavy people sing loudly and that's not how it is."
She added, "The difference between an opera and a musical is that in an opera, everything is sung, whereas in a musical you have some spoken dialogue. Magic Flute is what they call a singspiel, which means 'sung-spoken-work.' It's almost the German-answer to our American musical."
The performance is made possible by a $27,400 grant from the Bistline Foundation and is being hosted by ISU's College of Arts and Letters and School of Performing Arts.
In addition to The Magic Flute, Opera Idaho will also provide a set of outreach performances of the Mini-Magic Flute, a 50-minute condensed version of the opera that will be performed Wednesday, Nov. 4, and Thursday, Nov. 5, in the Blackfoot Performing Arts Center and Frazier Hall, respectively, for area after-school groups. These outreach performances are not open to the public.
ISU also hosts the annual Idaho/Montana District MET Opera Auditions Saturday, Nov. 7, starting at 10 a.m. in Jensen Grand Concert Hall. Auditions are open to the public for a small entry fee.
"The Magic Flute" will be general seating and tickets are available online at isu.edu/tickets, at the Stephens Center Box Office between 10 a.m. and 4:30 p.m. on weekdays, or by calling (208) 282-3595. Ticket prices are $20 for adults, $12 for faculty and staff or seniors, and $8 for ISU students and children ages 12 and under. Family or group rates are also available by calling the Box Office.
###
---
Categories: