ISU sports science department purchases equipment for Human Performance Lab
December 17, 2015
ISU Marketing and Communications
POCATELLO — Idaho State University's Department of Sports Science and Physical Education recently purchased new CosMed equipment for its Human Performance Laboratory after receiving award funds from the ISU Graduate School.
The equipment will be used for student teaching and student research projects in the department, as well as student and professional research.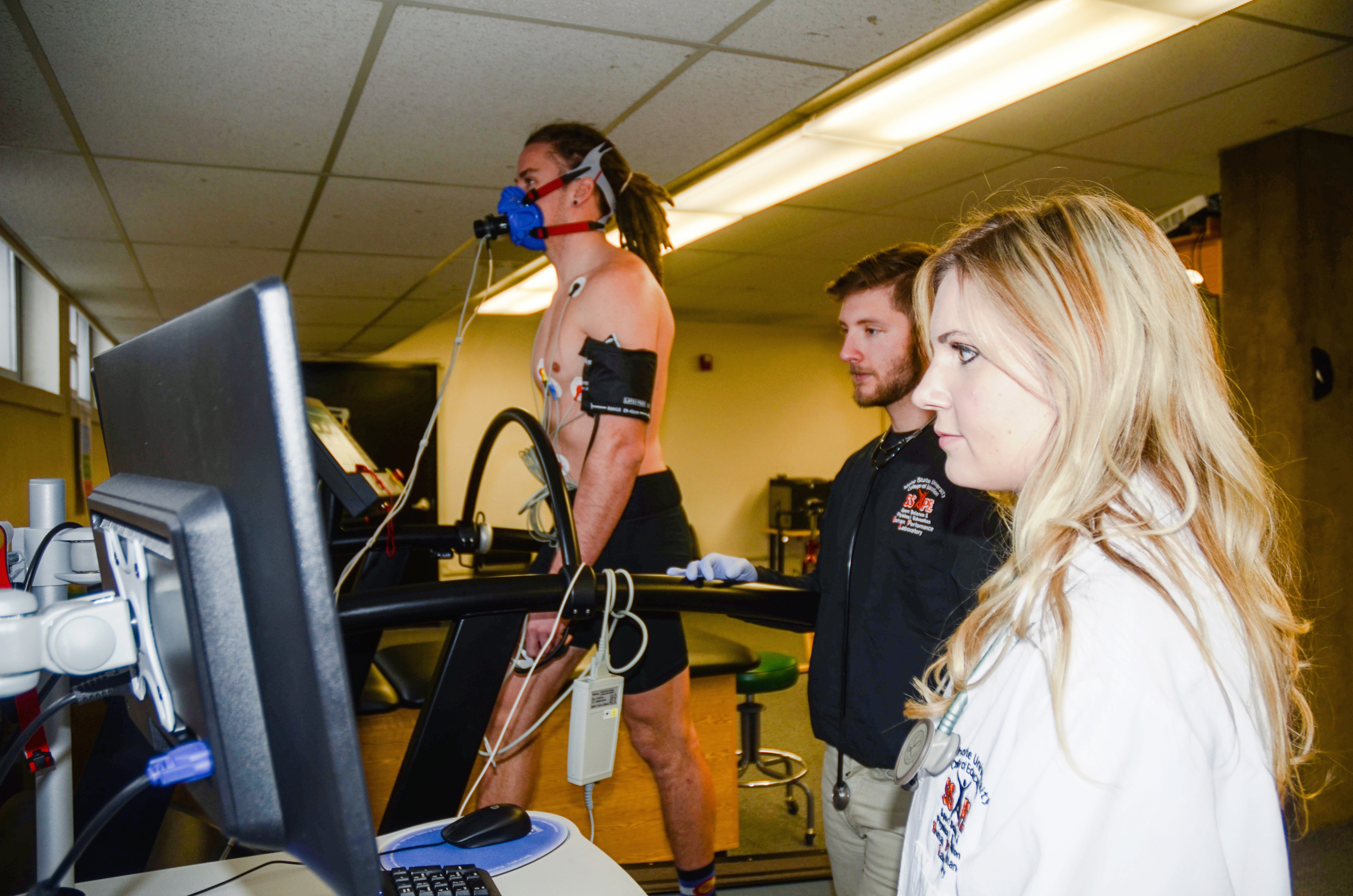 The equipment is primarily used for testing human performance, physical fitness and aerobic capacity. The equipment is useful not only for athletes, but for members of the general public looking to get into better physical shape, whether working to improve cardiovascular health and aerobic capacity, or by working to lose weight.
"Athletes are going to be utilizing the equipment more on the physical performance side of things, while the general public is generally going to be on the fitness side," said Michael Meyers, associate professor in the Department of Sport Science and Physical Education at ISU.
The department was trained to use the new equipment and software by CosMed, which specializes in cardiopulmonary and metabolic equipment, in late September and the equipment is now up and running.
"This new equipment brings our laboratory up to a competitive level to attract students to SSPE," Meyers said. "We have one of the newest, state-of-the-art laboratories in the country right now. In addition, this new equipment will aid in recruitment to the department and the university as a whole. Prospective students love new equipment. They love to get to play with new toys."
Meyers also noted that the equipment will enable ISU students to complete and showcase research projects, in addition to allowing students to compete regionally and nationally against other universities with that research.
"And the students of SSPE are very appreciative of ISU's efforts to provide this equipment and in turn these opportunities for them," Meyers said.
Part of the equipment purchase included ISU being designated as a regional demonstration site for CosMed. This designation means that anyone who wants to come and see how the equipment works is able to do so at ISU. The department will also be involved in some CosMed research, which Meyers said not many places are.
"It took a lot of people to make this all come together. The purchase of this equipment and all of the opportunities that come with it would not be possible without the graduate school administrators who put in a lot of work in a very short amount of time," Meyers said. "Vice President for Research and Dean of the Graduate School Cornelis Van der Schyf, Dean Deborah Hedeen of the College of Education, SSPE department head John Fitzpatrick, Office Services Supervisor Katie Smith of the Office of Research and our SSPE administrative assistant Pat Peyton all put in a lot of work to put together the proposal and get this all going. The award and purchase of the equipment all occurred in about a week."
Meyers added, "I've never seen a university move so quickly on something like this."
The department is open to the community, athletes, faculty and staff at ISU for testing services ranging in price from $15 to $170. The laboratory is also open to students, professionals and the community for tours.
"It's a game-changer for us," Meyers said. "We now have one of the best labs in the northwest and in the United States. We're taking a step forward, and moving forward in the department. It's an exciting time and we're doing exciting things."
HUMAN PERFORMANCE LABORATORY
Sport and Exercise Performance Evaluation Program

Peak Aerobic Power (VO2peak)* $110
This evaluation will involve moving on a treadmill during respiratory and metabolic gas analysis and 12-lead ECG analysis of the heart. Results will provide information on your peak level of aerobic power, endurance capacity, anaerobic threshold, ventilatory response, and level of fitness.
Anaerobic Power and Capacity $30
This evaluation will involve performing a 20-second cycling challenge. Results will provide information on your peak power (PP), mean power/capacity to maintain a workload (MP), and the rate of decline in power/fatigue index (FI%) during the challenge.
Blood Lactate Analysis $20
This evaluation will involve collecting blood samples from a finger prick to determine lactate accumulation and clearance in a cycle ergometer test.
Body Composition $30
This evaluation will involve a 7-site skinfold assessment and/or a hydrostatic/underwater weighing technique. Results provide information on the amount of lean body mass (LBM), and % body fat.
Pulmonary Function $20
This evaluation will involve exhaling through a computerized spirometer. Results will provide information on your lung capacity, ventilatory efficiency, and potential COPD risk.
Flexibility $20
This evaluation will involve measuring range of motion (ROM) of several major joints using manual goniometric technique. Results will provide information on the degree of flexibility, detect bilateral asymmetry, and identify musculoskeletal restrictions.
Muscular Strength, Power and Endurance $15
This evaluation will involve performing physical challenges such as grip strength, crunches, reverse sit-ups/extensions, and pushups. Results will provide information on the level of muscular strength and endurance of the chest, shoulders, abs, lower and upper back, arms and hands/forearms.
Nutritional Analysis $40
This evaluation will involve obtaining your total nutritional intake over a 3-day period of time. Results will provide information on caloric intake, quality of the diet, nutritional excesses and deficiencies, and recommended daily allowance (RDA) for vitamins and minerals.
Resting Cardiac Function $30
This evaluation will involve checking the activity of the heart with a 12-lead electrocardiogram (ECG) during supine, hyperventilation, and standing conditions. Results will provide information on conduction, identify cardiac abnormalities, and determine the health fitness status of the heart.
Performance Cycling Package $170
This package will include evaluation of anaerobic power and capacity, aerobic power and capacity and torque evaluation on a Velotron Cycle Ergometer.
*An additional $50.00 will be added should a physician be required for 1) individuals 40 years of age or older, 2) individuals that do not meet American College of Sports Medicine risk factor guidelines, or 3) adolescents under the age of 18 years with parental consent.
*An additional $30.00 will be added should any blood work be required.
---
Categories: