ISU Choirs Holiday Concert 'Songs of the Season' set Dec. 4 at the First Presbyterian Church in Pocatello
December 1, 2015
ISU Marketing and Communications
POCATELLO – Idaho State University Choirs Holiday Concert "Songs of the Season" will be presented Dec. 4 in the sanctuary of the First Presbyterian Church in Pocatello at 7:30 p.m.
ISU Director of Choral Activities Scott Anderson will conduct the 20-voice ISU Chamber Choir and Professor Kathleen Lane will lead the ISU Women's Choir.
"The wonderful atmosphere of the First Presbyterian Church provides a perfect venue to present a wide variety of choral music celebrating the traditions associated with the Christmas season," Anderson said. "Audiences will hear representative choral works from the 1500s to the present day; ancient to modern expressions of uplifting texts and unique carol settings."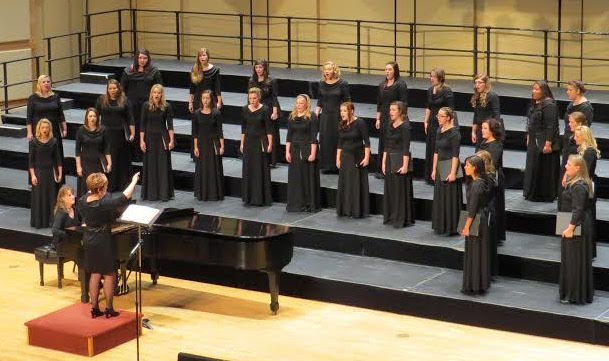 The ISU Women's Choir will open the concert with a newly published 14th-century processional chant, "O Virgo Splendens." This evocative chant will be followed by the "Winter" portion of the Ralph Vaughan Williams cantata, "Folks Songs of the Four Seasons." These modern settings celebrate some of the oldest holiday tunes and celebrations in English history, including a joyful "Wassail Song," and a hymn of blessing, "God Bless the Master of this House." Robert Wilson will be featured as violin soloist on "Ush'mor tseiteinu," a Hebrew Sabbath song. Carol Hotrum returns as piano accompanist for the Vaughan Williams and the Hebrew hymn.
The ISU Chamber Choir will perform the King's Singers arrangement "Gaudete," featuring the solo voices of Jason Dyer, Lakota Terrace, Trey Croft and Brett Friedman. The men of the Chamber Choir will sing the plainchant "Alma Redemptoris Mater," upon which the Palestrina's motet of the same name is based. The choir will present Johann Sebastian Bach's chorus "Ehre sei Gott" followed by the haunting setting of William Blake's "The Lamb" by English composer John Tavener. Pianist Natalia Lauk will be featured in the choir's performance of "What Sweeter Music" by John Rutter. The singers will present the joyous "Noel Ayisyen" by Emile Desamours in Haitian Creole, and will end their performance with a rousing setting of "We Wish You a Merry Christmas."
Admission to the 7:30 p.m. performance is a suggested donation of $5 at the door; however, any amount will be accepted. The church is located at 202 S. Seventh Ave., Pocatello
For more information please contact Julie Hillebrant at hilljuli@isu.edu or visit http://www.isu.edu/sopa/music.shtml.
---
Categories: