Idaho State University, University of Montana music faculty collaborate to present "An Evening with Brahms" on Sept. 19
September 10, 2015
ISU Marketing and Communications
POCATELLO – Ten faculty singers and pianists from Idaho State University and University of Montana will join together for "An Evening with Brahms" on Sept. 19 at 7:30 p.m. in Goranson Hall.
Tickets for the concert are $10 for general admission, $7 for ISU faculty and staff, $5 for pre-college students and free for ISU students.
The vocal ensemble includes sopranos Diana Livingston-Friedley and UM's Anne Basinski, mezzo-sopranos Kathleen Lane and UM's Kimberly James, tenors Geoffrey Friedley and UM's David Cody, and baritones Scott Anderson and UM's David Edmonds.
The octet will perform Brahms' "Neue Liebeslieder-Walzer, Op. 65." Piano professors Kori Bond and UM's Christopher Hahn will perform a pair of Brahm's Hungarian Dances, playing on one piano using four hands. Bond said the pieces incorporate the vigorous tunes and rhythms of 19th century gypsy music.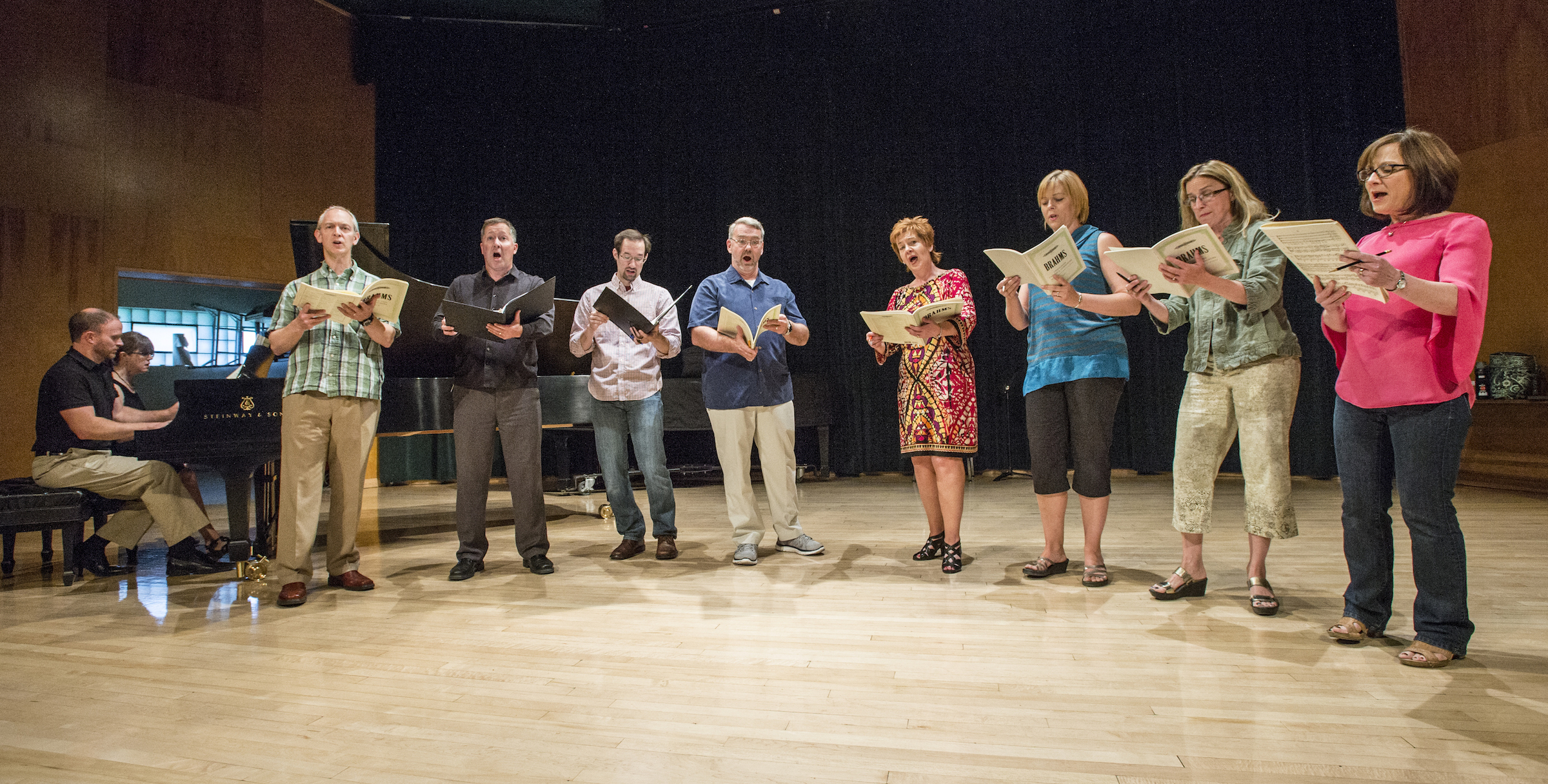 "The 15 short love songs are light waltzes, and the vocalists vary the mood with a half-dozen solos and three duets," Bond said. "This is a program of masterful and carefully chosen songs that the audience will love."
The ISU and UM faculties have a long history of collaboration, but have never performed on this high of a scale.
"We're bringing a large concentration of talent from two institutions, which is what will make this concert grand," Lane said. "When you look at the 10 people on stage, which their combined experience and advanced degrees, the result will be a big sound and impressive artistry."
Anderson, ISU director of choral activities, said that the performers not only represent two major universities, but also range from programs including voice, piano and choir. "The opportunity for me and UM director of choral activities Edmonds to sing with our applied vocal faculty is a privilege," he said.
The group has rehearsed in Missoula, and will repeat the program at UM on Sunday, Sept. 27.
Anderson is a Kalispell, Montana native and Lane is a graduate of UM. Performing at UM represents a homecoming for both.
"I always look forward to these exchange programs," Lane said. "For just a little while, I can revert to my Grizz roots. This just might be our best program ever."
---
Categories: