Idaho State University Eli M. Oboler Library alive with the sound of music after receiving 750 music scores from Gisela Taeuber
October 1, 2015
ISU Marketing and Communications
POCATELLO— Gisela Taeuber, wife of world-renowned conductor Haymo Taeuber, donated 750 music scores valued about $8,000 to Eli M. Oboler Library at Idaho State University.
Haymo Taeuber was born Jan. 1, 1908, in Graz, Austria. He started his career as a staff conductor at opera houses in Graz and Vienna. Taeuber later rebuilt the Vienna Boys Choir after it had been taken over by Nazis during WWII. Taeuber was a frequent guest conductor with the Vienna Symphony and many European Orchestras for 20 years.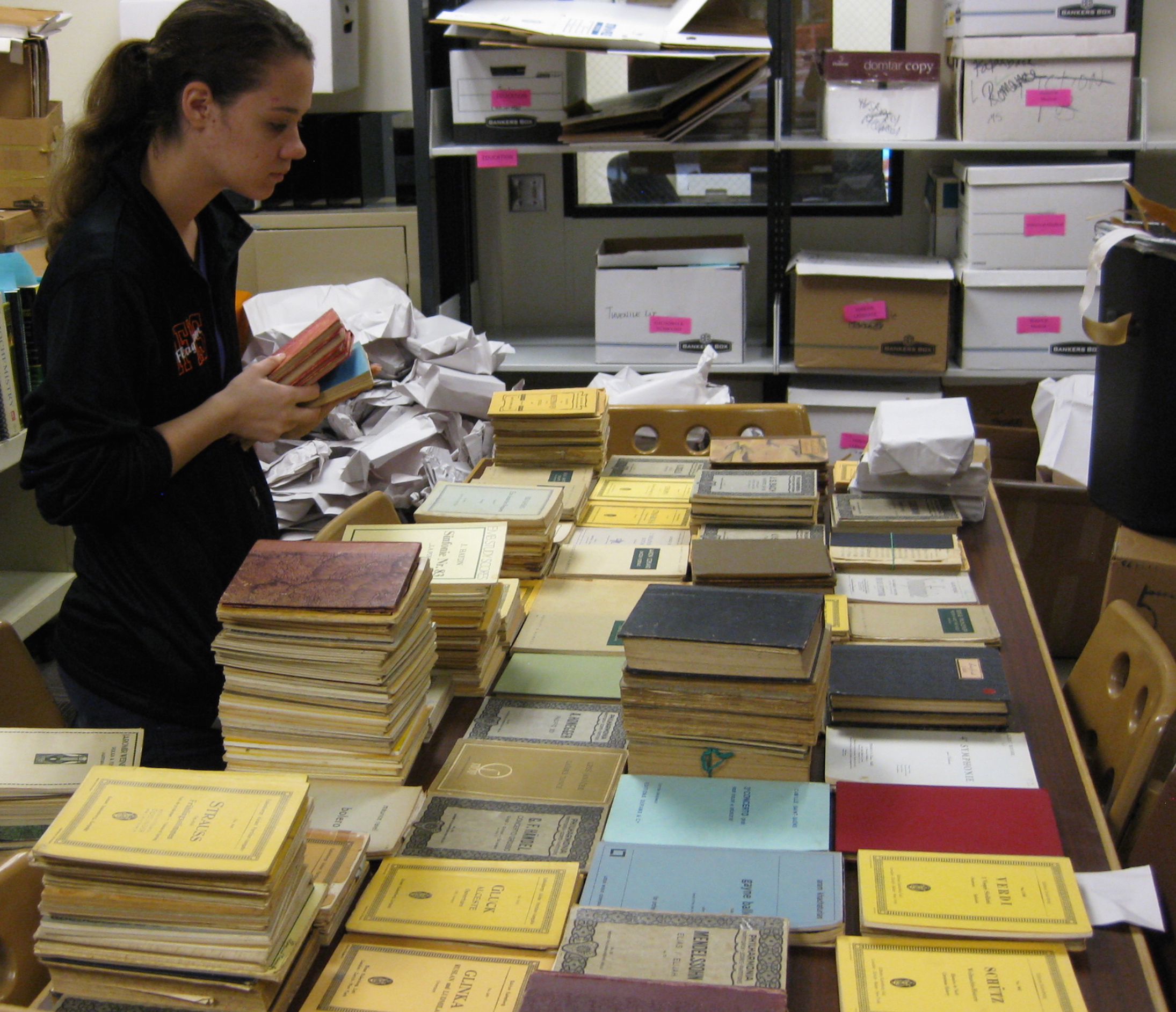 His specialty was building orchestras. He would start out with amateurs or small orchestras, then build them into world-class symphonies. Taeuber developed these orchestras in Turkey, Iran, Canada and the United States. He conducted the Monterey County Symphony Orchestra from 1968-1983 and continued guest conducting in the area. Taeuber retired in 1985 and passed away Feb. 19, 1995 at the age of 87 in Pebble Beach, California, according to Kristi Austin, ISU reference librarian.
Taeuber's collection holds a lot of sentimental value to his family, who wanted the collection to find a special home.
"The collection of scores is extensive and very personal," Taeuber's son Christiane Riess, wrote. "It was and continues to be very important to us, especially to our mother, who spent many hours testing my father who generally memorized all the works he performed so he would not be distracted by needing a score during the performance. So, as you can imagine, she knows them inside out."
Gisela was very interested in ISU and its music program. She was happy to know her husband's scores have "found a great home."
Austin says she struggles to purchase music scores for the library because they can be expensive. Austin read an email posting on the listserv maintained by the Music Library Association about the collection, posted by a librarian that the Taeuber family had approached. She was very excited about the opportunity to receive this collection.
She also saw the opportunity as a great way to preserve the legacy of Haymo Taeuber. Over the summer, Austin worked with Cheryl Sebold, the library gift program coordinator, with the Taeuber family regarding this gift. Sebold was also impressed with the collection.
"What makes the collection so incredible is there is all kinds of scores in here," said Sebold. "Some are from the 1800s and some are in other languages."
Austin also serves as the bibliographer and subject specialist for music, theater, dance and fine arts. She finds the books for reference within each department. Austin is a musician and is interested in music. She works closely with the ISU music department, and will provide demonstrations for students in the music program that teach students how to use tools and references the library has for music research.
"I see this as a gift to the faculty and the students and other members of the community who might want to use these," said Austin.
Often students in the ISU music program have to look at scores and listen to the music for reference. Students also have to pick a piece of music and do research on that specific piece. Faculty will consult scores when deciding what symphony or opera to put on.
"We are very lucky we got them," Austin said.
Tessa Fielding, a work study employee at ISU, has been sorting through the books and doing a lot of preliminary work since the collection arrived in July.
Fielding helped unpack the boxes and sort the books alphabetically by composer. She also went through the library database to see what scores were duplicates the library already had.
"I thought the collection was really cool, it was very personalized some of the scores had newspaper clippings and comics in them," said Fielding.
Taeuber's collection will be used to replace old or damaged copies the library already has of scores, it will be readily available to ISU conductors. Scores the library does not need will be donated to a book sale the library puts on as a fundraiser for student services. Most importantly, these new scores will add significantly to the library's collection of music scores.
---
Categories: