Yellowstone Studies Center in West Yellowstone offers diverse opportunities for ISU faculty, students and staff
October 24, 2014
ISU Marketing and Communications
Yellowstone Studies Center offers learning center in West Yellowstone for ISU students, faculty of many different disciplines
The Yellowstone Studies Center is a source and center for better understanding the Greater Yellowstone Ecosystem. It offers an academic infrastructure for scientists, researchers, teachers, and students working in many different fields of study at Idaho State University and other institutions.
The facility was created by The West Yellowstone Economic Development Council and a consortium of 10 different higher learning institutions, of which Idaho State University was a founding member, to coordinate field trips and research opportunities for their respective undergrads, graduate students, and faculty.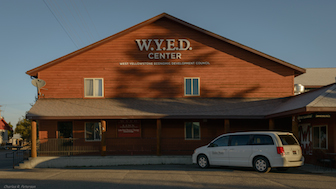 "For me the number one attraction of being involved in this is the ability to have a convenient way to bring students up to the Yellowstone area," said Chuck Peterson, an ISU zoology professor. "It's not just the proximity to Yellowstone National Park, but also Hebgen Lake and the Centennial Mountains and the Red Rocks National Wildlife Refuge and Island Park. There are many great places to study."
The West Yellowstone Economic Development Council has high hopes for the future of the studies center, including that it will be an important learning center for research done in the Greater Yellowstone Area. It could also be used to host guest lecture series and events for presenting research findings to the general public.
"I can't say enough good things about the Yellowstone Studies Center and how it helps our region of Idaho connect to them in a number of ways," said Yolanda Youngs, an ISU assistant professor of history, "It is a great regional resource for faculty and students at ISU, right on the doorstep of the first national park in the world."
The universities that use the facility include Indiana State University, Montana State University, Montana Tech, University of Colorado, and several others. These universities also form an advisory board, made up of faculty and staff from the universities. Peterson is the faculty member representing ISU on the advisory board.
The multi-disciplinary functions of the center can serve a variety of clients and types of students and activities.
"The YSC has conference rooms, classrooms, Internet access, and living areas, so it is well suited to taking students on field trips," Peterson said. "I've taken our general ecology and photography classes up there, and our microbiologists have a lot of interest in it because of the organisms that live in the hot springs. It also holds value for historians and geoscientists. We've got a number of courses that could use it."
Contact: Charles Peterson, Professor of Zoology, (208) 282-3922 or petechar@isu.edu
---
Categories: