Six Named to ISU Sports Hall of Fame
October 17, 2014
ISU Marketing and Communications
Six new members will be inducted into the Idaho State University Sports Hall of Fame Saturday.
Basketball player Mandi Carver, Senior Women's Administrator and Associate Athletic Director Nancy Graziano, swimmer Michael Harada, wrestler David Pacheco, football player DeLane "De" Pankratz and track athlete Becky Sondag are the newest inductees into the Hall of Fame. Graziano will receive the Lifetime Achievement Award.
They will be honored at half time at ISU's football game against Southern Utah University in Holt Arena. Kickoff is at 2:35 p.m.
Biographies follow:
Mandi Carver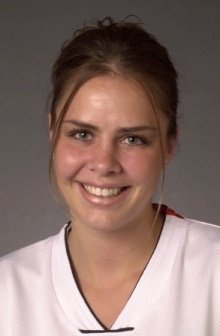 From the moment she arrived on the ISU campus in 1998, Carver's impact on the women's basketball program is unmistakable, both on and off the court. She was the first ISU player to score more than 1,000 points and grab more than 1,000 rebounds. She ranks third in the Big Sky Conference in career rebounds. She holds ISU's career block shots record with 180, which ranks fourth in league history.
In her senior year, Carver led the nation in rebounding at 12.4 rebounds per game.
Carver was first team All-Conference in 2000, 2001 and 2002. She was Conference MVP in 2002, Academic All-Conference in 2001 and 2002. She was Big Sky Player of the Week six times and was named to the Big Sky All-Tournament team three times. This fall, Carver was listed as one of the Big Sky Conference's "25 Greatest Female Athletes."
Carver graduated from ISU in 2002 with a bachelor's degree in mass communications/advertising with an emphasis in public relations. After college, she went on to play professionally for eight years. At the conclusion of her professional career, she became a college coach and is currently coaching at Fresno State University.
Nancy Graziano
Graziano came to Idaho State University in 1985 as an assistant women's basketball coach. Before coming to ISU, she was a three-sport head coach for 15 years at Alemany High School in Mission Hills, California. She was the Girls' Athletic Director for seven years before serving as the first female director of athletics in the Mission Hills League from 1977 to 1983. She also chaired the Department of Physical Education for 10 years.
Today, Graziano serves as Senior Women's Administrator and Associate Athletic Director, overseeing academics, compliance, training and equipment rooms. She works with the faculty athletic representative to monitor the student-athletes' progress toward their degree and Big Sky Conference/NCAA academic eligibility.
Inspired by her younger sister Marsha, Graziano's passion for working with exceptional children led her to her active participation in the Southern California Special Olympics, preparing children for competition. In honor of her sister, Nancy started the Exceptional Halloween Dance at Alemany in 1981. This event, which still continues today, is one of Nancy's proudest accomplishments. She was inducted into the Alemany High School Sports Hall of Fame in 2006. That same year, Graziano was ISU's Homecoming Parade Marshal.
Graziano was recognized as the inaugural recipient of the ISU National Girls and Women in Sports Day Trailblazer award. This award is given annually in honor of Dr. Cynthia Pemberton and Ms. Sandra Noakes, the founders of National Girls and Women in Sports Day at ISU and is awarded to a woman who has provided significant leadership and mentorship to women in sport.
Michael A. Harada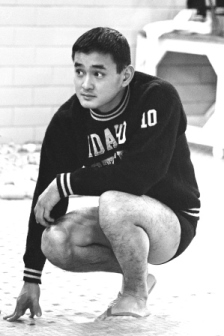 Coming to Pocatello and Idaho State University was life-changing for Harada.
He was recruited by Dubby Holt in 1962 to become part of ISU's first swim team, and received a full-ride scholarship to swim for ISU. Harada was one of "Dubby's boys," along with his lifelong friend Lincoln Yamashita.
During his first two years, ISU was not affiliated with any conference so the swim team competed with other area schools from Utah, Montana and Colorado. Harada represented Idaho State in the Intermountain AAU Championships in Utah in 1962 and the Western Intercollegiate Invitational Swim Championships in Colorado in 1963. Starting in 1964, ISU was a member of the Big Sky Conference and Harada set conference records in the 100-yard fly and was a member of a record-setting 400-yard medley relay team. He also set records in the 160-yard, 200-yard and 400-yard individual medleys, 1650-yard freestyle, 100-yard and 200-yard fly, and was a member of 400-yard medley relay and 400-yard free relay teams.
Following his graduation from ISU with his bachelor's degree in sociology and a member of the ROTC program, Mike was commissioned as a 2nd Lt. in the U.S. Army and was assigned to serve in Vietnam. He served as a military intelligence advisor to the Popular Forces and the Provincial Reconnaisance Unit of the Republic of South Vietnam in the Long Thanh District. Following his military service, Harada returned to Hawaii and began his 37-year career as a social worker, working with at-risk youth and youth in the juvenile justice system.
He and his wife Sonia have three children, Ryan Harada, Kellie Mullins and Jan Harada.
David Pacheco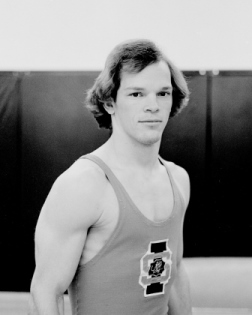 Pacheco's life experiences have always centered around athletics and education. Not always a wrestler, he began the sport his sophomore year in high school in Sacramento, California.
At ISU, Pacheco was the Big Sky Conference 167-pound champion in 1978 with an 18-8-2 record. ISU finished second in the team competition. In 1979, Pacheco was the Big Sky Conference champion at 150 pounds. His 28 wins are the ISU one-season school record.
Pacheco graduated in from ISU in 1980 with a bachelor's degree in physical education and special education. He obtained his master's degree in physical education in 1987 from California State University-Sacramento. Pacheco began his career at Sacramento City College in 1985, and has been a faculty member and head coach of the wrestling program for 30 years. In addition to coaching, Pacheco is a professor of kinesiology, health and athletics. His teams have 239 dual wins, 12 conference championships, six regional championships, two individual state champions, 78 All-Americans, 135 state medalists, 45 regional champions, 97 conference champions and 70 Academic All-Americans.
Pacheco was recognized as the California Coaches Association Community College Coach of the Year in 1996 and has received two California Community College Wrestling Coach of the Year awards, and is a two-time recipient of the NWCA Bob Budd Coaching Excellence Award.
DeLane "De" Pankratz
Pankratz began his collegiate career in 1955, along with teammate and long-time friend George Kom as members of the Boise Junior College football team. Transferring to Idaho State College, Pankratz was a guard on the 1957, 9-0 Rocky Mountain Conference Champions and the 1958, 4-5 injury riddled team. He played both offense and defense both years and was a team captain in 1958. Pankratz was the only Idaho State College player selected to the all-conference team in 1958 and was also selected as an All-American that year. As an offensive lineman, he was a fierce competitor opening running lanes for the backs.
Pankratz obtained his bachelor's degree in education/business education from ISU in 1960. He was the head football coach at Borah High School for 20 seasons (1967-1986) and compiled a record of 186-36. Now retired, Pankratz enjoys watching Borah games from the stands.
Becky Sondag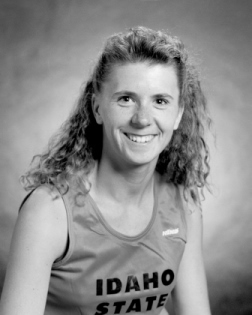 More than 20 years after concluding her ISU athletic career, Sondag still holds ISU's school records in the 1500 meters outdoor and the indoor mile.
Sondag came to ISU in 1989 as transfer student from Shasta College in Redding, California. In her career at ISU, Sondag set six school records: the indoor mile in 1991, the 1500 in 1992, the 800 indoor and outdoor in 1991, the 3000 outdoor record in 1991 and the 3000 indoor record in 1990.
Sondag was a five-time Big Sky All-Conference athlete, 5-time Big Sky Athlete of the week, Big Sky All-Conference Academic Award recipient every season, ISU Scholar Athlete of the Year, Outstanding Cross Country and Track Athlete at Bennion Awards and Big Sky Conference champion in the 1500.
The first in her family to graduate from high school, Sondag graduated with a double major, a bachelor's degree in English and a bachelor's degree in educational English in 1982. Currently, she works as an English teacher and cross country and track coach at Casper Natrona High School in Casper, Wyoming. She continues her involvement with ISU and has watched seven of her athletes continue their running careers as Bengals. She has been recognized with 15 Regional Coach of the Year selections in Idaho and Wyoming and was Wyoming Cross Country Coach of the year in 2010.
Sondag still competes and was silver medalist in the World Master's USA Track & Field Championships in the 5K and 10K in 2012, Salt Lake City Marathon Champion in 2013 and Casper Marathon Champion in 2014.
Sondag and her husband Corey have two daughters, Ashley and Shaelynn.
---
Categories: