Rain does nothing to dampen Bengal spirits; more Week of Welcome fun to come
August 27, 2014
ISU Marketing and Communications
Week of Welcome began on an ominous note, with heavy rain threatening to cancel the week's biggest event, Welcome Back Orange and Black on Monday.
The rain didn't dampen Bengal spirits or stop Welcome Back Orange and Black, an event students flocked to despite a changed venue. Tuesday's Paint Party, sponsored by the Student Activities Board, attracted a large crowd of Bengals seeking fun at Cadet Field.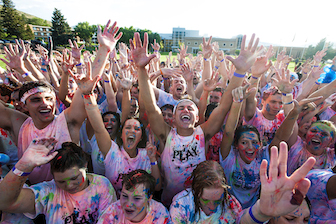 There are many other Week of Welcome events scheduled, as listed below, but the dark clouds gathering in the sky on Monday, Aug. 25, made many Pocatelloans anxious. But none were so anxious as the organizers of the Welcome Back Orange and Black event, one in which the Pocatello community invites incoming Idaho State University students to see what Pocatello has to offer.
The keystone event of the week, Welcome Back Orange and Black, however, had to be moved from Old Town to the Red Lion Inn because of the heavy rains pouring down midafternoon. A change of venue only a few hours before the event may sound like a nightmare scenario, yet those planning and orchestrating the event remained upbeat.
"It's Welcome Back Orange and Black regardless of the weather," said Jay Colonel, vice president of business and development at Ireland Bank and part of the welcoming committee. "We would be welcoming people back even if it was snowing. I think this really shows how quick ISU folks are to respond to difficult situations."
Various local businesses and organizations hurried to get their booths and tents set up, while the sound of a drummer loudly practicing before the show added to the overall frantic atmosphere. People were wondering aloud how the change of venues would affect things and specifically whether many students would show up. However, organizers remained undaunted.
Valerie Watkins, the co-chair of the Welcome Back Orange and Black committee, said, "It's difficult to go from outdoor to indoor because there are expectation about things, and there's an overall different feel. But, I'm sure once students get here it will be tremendous." She added that, "We are so grateful to Red Lion for taking this on so last-minute, it's incredible. They made a bad situation good."
Piles of T-shirts were the first thing people saw as they walked in, with signs promising a free one to students who presented their Bengal ID. Free things are a big part of the event, not only T-shirts, but also hot dogs, pizza, cookies, and gift cards for Pocatello businesses.
And there was the lure of much bigger prizes later in the night when a raffle was held to determine who would win luxuries such as a large flat-screen TV, refrigerator, microwave, and even a Ford automobile with a custom paint job featuring ISU's mascot, the Bengal.
Around 3:30, ISU cheerleaders and dancers arrived in uniform. Shantelle, a cheerleader, was very excited about the event and the school year. "I'm looking forward to the football game; that will be really fun." When asked about the event, she said, "It's a great thing for all the freshman coming in to realize that college can be fun and it's not just about school. And the free stuff is really cool."
The vendors started noting that there were more people than they expected, and as students began to turn up in droves they were proven right. More and more of ISU's student body piled into the large Bannock room where the band Happy Havoc was playing and they could grab plenty of free swag.
The event was absolutely packed, and people were enjoying browsing the booths and eating the free food. At that point Welcome Back Orange and Black was easily declared a success despite the possible setback from the weather.
The ISU Marching band blasted out a rousing song that made for an abrupt change of pace from the country-rock that was playing just moments before, and the cheerleaders and people in the crowd danced along. Next the ISU Bengal Dance team performed many impressive synchronized dance moves for the crowd. Then it was the cheerleader's turn, and they didn't disappoint, flinging each other into the air with great agility.
Incoming freshman could see what a great place ISU is, and what rewards it has to offer them. In fact, one lucky student has already been amply rewarded. Colton Bankhead, an incoming freshman from Jerome, won the big prize of the night: the 2010 Crown Victoria, formerly a police cruiser. The car was donated by the City of Pocatello and Pocatello Police Department and was painted by the ISU College of Technology Auto Collision Program.
Many other events are planned for the week, and a full schedule of them is below:
• Aug. 27: Involvement Fair, 11:30 a.m. – 1 p.m., Quad; Costco Back to school Night, 8 – 9:30 p.m.; movie: "Blended" 8 p.m., Student Union Bengal Theater
• Aug. 28: Glow Bowling Party, 7 – 9 p.m., Pond Student Union; Cold Butts & Beer (sponsored by Chi Alpha), 8 – 10 p.m., Bartz Field; movie: "X-Men: Days of Future Past," 8 p.m., Student Union Bengal Theater
• Aug. 29: Movie: X-Men: Days of Future Past, 7 and 9:45 p.m., Student Union Bengal Theater; Shakespeare's "Hamlet" (sponsored by IPO), 7 p.m., Bistline Theater in the Stephens Performing Arts Center; Late Night at the Union, Rodeo Night, 9 p.m., Student Union Ballroom
• Aug. 30: Broadway Musical Reviews, 1 – 2 p.m., Quad, Presented by Old Town Actor's Studio; Movie: Rio 2, 1 p.m. and 3 p.m., Student Union Bengal Theater; movie: "X-Men: Days of Future Past," 7 and 9:45 p.m., Student Union Bengal Theater.
---
Categories: