Play 'Luck and Conincidences' written by ISU graduate student Kane to be performed Sept. 26-27 at SPAC
September 9, 2014
ISU Marketing and Communications
Idaho State University graduate student Gabrielle Joan Kane will perform her play "Luck and Coincidences" Sept. 26 and 27.
The show will be performed in the Black Box Theatre at the Stephens Performing Arts Center. Admission is $5. Doors open at 7 p.m., and the show starts at 7:30 p.m.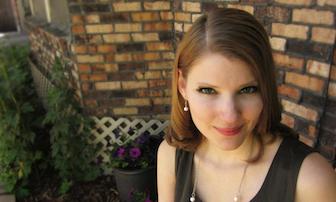 "Luck and Coincidences" is directed by Vanessa Ballam, an assistant professor at ISU, and assistant director Jessica Rahill. The sound design is done by Matthew Lewis, ISU student, and an original song written and composed by Allen H. Browning.
The play explores what makes a relationship in the modern world. It begins with the first meeting of Aidan (DJ Klick) and Olivia (Kane) and it follows their courtship, complete with sparks and insecurities that define them. The play contains comedy and drama.
Idaho Falls native, Kane, formerly Gabby Browning, wrote the project while pursuing her master's degree. Her thesis focuses on producing a play from the inspiration to its completion on a limited budget, to showcase the talent of the actors and also show the hidden costs of producing theatre.
Kane has been active in the Idaho Falls community arts, participating in school plays, volunteering at ARTI (Actors' Repertory Theatre of Idaho) and working at the Colonial Theatre since high school. Kane graduated from Skyline High School in 2004, and from the Johnny Carson School of Theatre and Film at the University of Nebraska-Lincoln in 2008.
She is currently pursuing two graduate degrees in theatre and business administration. She serves on the board of directors at Westside Players and moonlights with the Comedy Project Improv group in Pocatello.
---
Categories: