ISU Campus Public Safety accredited by Idaho Chiefs of Police Association
September 23, 2014
ISU Marketing and Communications
Idaho State University Campus Public Safety has received accreditation by the Idaho Chiefs of Police Association (ICOPA). This accreditation, held by only 20 percent of all police departments in Idaho, recognizes the University's level of law enforcement standards.
There are 94 standards of performance that an agency has to meet or exceed in order to receive this level of performance recognition. Idaho State University is the first campus public safety unit in the state to receive such an accolade. The accreditation is valid for three years, at which time the University will be reviewed for ongoing accreditation.
"The strong support from the University administration and our close association with the ISU Law Enforcement program and with the local police, sheriff's office and state training professionals were instrumental in our accomplishing this significant achievement," said Steve Chatterton, ISU's director of public safety.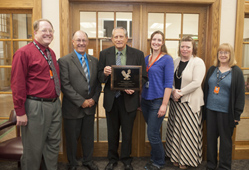 "In this time where the nation and the world is focusing on law enforcement standards, ethics and professionalism, this accreditation represents a significant achievement for our University," said ISU President Arthur Vailas. "I'm extremely proud of all of our public safety officers. Their professionalism ensures the safety and security of our campuses."
The public safety unit began the accreditation review earlier this year at the University's request. "Our emphasis on training and the ICOPA standards will help our staff focus on the daily application of these professionalism standards as a way of life," said Chatterton.
---
Categories: