ISU 'A Season of Note' to present Kurt Bestor Christmas Dec. 16 at Stephens Performing Arts Center
December 9, 2014
ISU Marketing and Communications
Idaho State University's fine arts series "A Season of Note" will present "A Kurt Bestor Christmas" at 7:30 p.m. Tuesday, Dec. 16, in the Stephens Performing Arts Center's Jensen Grand Concert Hall.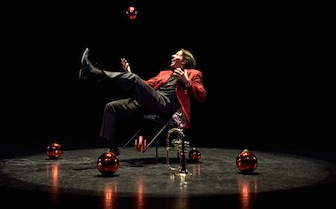 From the magical, starry stage to the featured musicians, from invited guests and Bestor's own playing, conducting and emceeing the show, to the arrangements that add such texture and layers to Christmas songs, there is nothing like a Kurt Bestor Christmas.
Bestor has performed sold-out Christmas shows for more than 20 years, and he is best known for his innovative interpretation of season carols found in his popular five-CD boxed set "The Complete Kurt Bestor Christmas."
Ticket prices for the Bestor concert are $38 for lower level and $32 for upper level seating. Tickets can be purchased at the Stephens Performing Arts Center Box Office, open from 10 a.m. to 4:30 p.m. during the school year.
Tickets can also be purchased over the phone at (208) 282-3595 or online at www.isu.edu/tickets. They can also be purchased at Vickers Western Stores in Pocatello or Idaho Falls and ISU's Pond Student Union in Pocatello. The Box Office is open one hour prior to show times.
For more on Bestor and his music visit www.kurtbestor.com.
---
Categories: