Idaho State University to present reader's theatre 'Auntie Claus' Dec. 12-13
December 12, 2014
ISU Marketing and Communications
The Idaho State University Department of Theatre will present two performances of the Auntie Claus holiday reader's theatre Friday, Dec. 12, at 7:30 p.m. and Saturday, Dec. 13, at 3 p.m. in the Stephens Performing Arts Center's Bistline Theatre.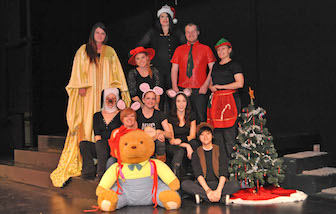 This family friendly production features five Christmas stories that teach lessons of giving, kindness and understanding for young and old alike.
Elise Primavera's Auntie Claus is featured and revolves around Sophie learning not only the truth about her mysterious aunt but also the true meaning of Christmas.
The play is adapted and directed by ISU Professor Sherri Dienstfrey-Swanson and will run approximately one hour. Tickets are $6 and are available at the door and at the Stephens Performing Arts Center Box Office at 282-3595.
---
Categories: