Idaho State University Sports Concussion Expert Caroline Faure to be featured on ESPN's Outside the Lines on Aug. 10
August 7, 2014
ISU Marketing and Communications
Idaho State University Associate Professor and Director of ISU's Center for Sports Concussion Caroline Faure will be featured in the ESPN program "Outside the Lines" episode "Reducing Hard Knocks?" airing Sunday, Aug. 10, at 8 a.m. Mountain Standard Time.
In this episode of "Outside the Lines," the program examines whether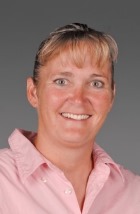 new sports products designed to reduce impact and help prevent concussions work. Faure will be featured prominently advocating against such products.
"The story is about the marketing of so-called 'protective' equipment intended to combat the concussion crisis in sports," Faure said. "In particular, the story will discuss the danger of after-market products in the sport of football that are intended to make football helmets safer."
A preview for the 30-minute program is available at http://m.espn.go.com/general/video?vid=11314155&src=desktop&rand=ref~%7B%22ref%22%3A%22https%3A%2F%2Fm.facebook.com%22%7D.
---
Categories: