Idaho State University Professor Jean Pfau identifies possible new autoimmune disease linked to asbestos exposure
August 27, 2014
ISU Marketing and Communications
A possible new autoimmune disease caused by exposure to asbestos from mines in Libby, Montana, has been identified by Idaho State University researcher Jean Pfau.
From the early 1900s through 1990 miners in northwestern Montana mined vermiculite, a mineral resistant to fire and high heat that was sold under the product name Zonolite, which was shipped widely throughout the United States.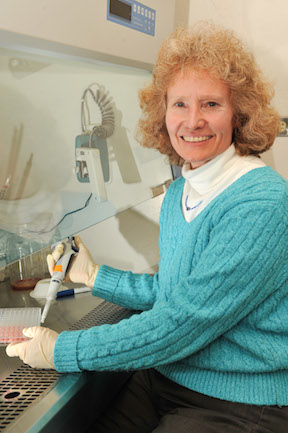 The mining of vermiculite has had a devastating effect on the population of Libby – 30 to 40 percent of the 10,000 residents in the greater Libby metro area have pleural lung disease, a severe, progressive, non-malignant disease caused by exposure to the asbestos that contaminated the vermiculite.
"We think that the pleural lung disease found in Libby after asbestos exposure is exacerbated by an autoimmune response," said Pfau, who has been working on a multi-million dollar grant from the U.S. Center for Disease Control and Prevention to the Mount Sinai School of Medicine in New York City, Idaho State University, the University of Montana, the Libby, Montana, Center for Asbestos Related Disease and a national scientific advisory group.
The asbestos triggers an autoimmune response that produces an antibody that seems to accelerate disease progression and severity.
An autoimmune disease is caused when a person's immune system that is supposed to deal with germs and other foreign things actually turns on it own tissue. Diabetes, multiple sclerosis and lupus are examples of autoimmune diseases.
"Right now what we're trying to do is gather all the information we can on how the autoimmune disease is contributing to pleural lung disease," said Pfau, ISU associate professor of biological science.
"Dr. Pfau's research is groundbreaking because when she introduced the antibody to mice that had never been exposed to asbestos, the mice developed fibrosis, or scarring," said Howard Grimes, Vice President for Research and Economic Development. "This suggests that the immune system is actually making the pleural disease more severe."
"This is now a theory we are continuing to test in humans," Pfau said. "The reason it is exciting is that previously there was no treatment for pleural lung disease. Now, if we can identify an antibody or an immune response process that can interrupt the autoimmune response (disease), we can come up with a potential therapy."
This autoimmune disease and treatment has implications far beyond Libby and its affected residents because vermiculite has been used in the construction of millions of homes and buildings. Nearly 9.8 billion pounds of vermiculite was shipped throughout the United States and Canada, according to MedPage Today, a publication that recently featured Pfau's research. The mineral has now also been found in an extended region near Las Vegas.
"It is of real concern right now between our study and other studies being done at the University of Cincinnati," Pfau said. "We're trying to find out if there is a minimum threshold exposure and how low that is. There's a concern that if the vermiculite material is disturbed and it becomes dust and is inhaled that it could cause disease."
Pfau has been working on her portion of the CDC grant for the last five years, employing six to eight undergraduate students, and one doctoral student who stayed on to do post-graduate work.
"We have a unique situation here at ISU in that students are involved in the whole range of research, from cell biology to animal research and human research,"" she said. "What we do is very translational."
---
Categories: