Idaho State University professor Crosby serves Fulbright, completes epic 15,000-mile drive home
October 10, 2014
ISU Marketing and Communications
Idaho State University Associate Professor of Geosciences Benjamin Crosby has spent the start of fall semester readjusting to regular life Pocatello after a year in which he served as a Fulbright scholar and visiting professor in Chile, completed a 15,000-mile drive home with his family and had his research earn international publicity and jokes by Jimmy Fallon on late-night TV.
"Half the time I feel like I am sleep-walking through the familiar because I've been doing this for the last seven years, but at times my life feels entirely new and different being home," Crosby said.
Fulbright/Visiting Professorship:
Crosby spent from August to December 2013 serving his Fulbright at the Universidad de Concepción in Concepción, Chile, and developing curriculum. He visited various faculty and students and inquired what their needs were to fill the biggest gap in their curriculum. The need was apparent.
"They wanted a course on landslides, about slope stability and hill-slope hazards that would help them in identifying places that are at risk and to help them make decisions about how to engineer proper structures to prevent or limit damage if they made a road cut or did construction on a slope," Crosby said.
Crosby, who went to Chile with his wife Cana, daughter Dylan, 14, and son Wells, 12, taught in English, a requirement of the Fulbright, to students whose primary language is Spanish.
"A big part of my effort was learning to teach a technical course to people who had English as a second language," Crosby said. "I had to balance the way I taught to reach as many of the students as possible."
The university he taught at was very modern, as was the whole country, something he described as "the shock of the familiar."
"The most surprising thing about moving to Chile was just how much like the United States it was," Crosby said. "It has big cities, giant skyscrapers, great public transportation, fast Internet, modern malls and cinemas where you can watch the first-run movies. Compared to any other country in South America, it is the most like the United States."
After serving his Fulbright Crosby stayed at Universidad de Concepción as a visiting faculty member on sabbatical and focused on completing the field research he started during his Fulbright. His research focused on collecting data on the daily cycles that occur naturally in three different rivers spread across Chile's different ecotypes, including the high Andes, temperate forest and subalpine environments.
"I focused on measuring how stream characteristics that cycle on a 24-hour schedule such as flow, turbidity or temperature vary as you move from the headwaters downstream," Crosby said. "These data could be used to guide the engineering design of future dams so that they may replicate these natural signals, thus diminishing their impact on downstream ecosystems."
Chile has some of the most pristine rivers remaining in the world and the country has already dammed many resulting in some negative consequences, and is considering damming more to create more hydropower for its growing economy. Crosby was compelled by the idea that if we understand the natural cycles on undammed rivers we can design outflow mechanisms to replicate those signals, diminishing their documented destructive side effects. Similar efforts to improve dam operation protocols are already underway here in the United States.
"If they have to follow through (with building dams for hydropower), they should at least do it in a way that minimizes impact," said Crosby, who served his visiting professorship from January into April 2014.
Research noted:
Last April, near the conclusion of his visiting professorship and before his four-month drive home, Crosby's research on tundra soils received international publicity in a wide variety of scientific and popular media outlets following publication in the journal Science.
The study, which focused on the antiquity of soils found beneath the Greenland Ice Sheet, was led by University of Vermont geologist Paul Bierman. The researchers, in a study titled "Preservation of a Preglacial Landscape Under the Center of the Greenland Ice Sheet," characterized a 2.7-million-year-old soil found beneath an ice sheet that is nearly 2 miles deep.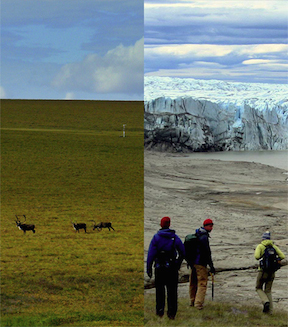 Though Crosby did not work with the icy soils from Greenland, he provided an analogous analysis of chemical compositions from a long-stable tundra soil in northern Alaska. Crosby, supported by the National Science Foundation, has been working in the Arctic for the past six years. Through a comparison to the Alaskan soil, the team was able to confirm that "the soil beneath the ice sheet had been stable and exposed at the surface for somewhere between 200,000 and 1 million years before being covered by ice," Crosby said.
"The age and maturity of the soil is what made news," he said. "Normally we think of glaciers as highly erosive and carving out the landscape. What you typically find under active glaciers is scoured or ground up bedrock; you would not expect to find mature soil material preserved under a feature as active as the Greenland ice sheet."
The research received publicity in outlets as varied as the Wall Street Journal and NBC News to yahoo.com.
"Jimmy Fallon on the Late Night Show made fun of us in a nice, tough way, saying 'scientists found dirt underneath the ice,' like 'who cares, it is obvious there is dirt underneath ice in Greenland,'" Crosby said. "He got a good, fun jab at us."
The 15,000-mile Trek Home:

Crosby and his family elected not to take the conventional flight back home following their time in South America.
"We had the crazy idea of driving home from Chile, and didn't really commit to doing it until about six months before we left," Crosby said.
Before leaving Pocatello, they purchased a copy of the Overlander's Handbook that outlines how to prepare for long-distance international travel by car, and took a practice trip to Baja, Mexico over spring break. Then, after moving the Chile, they prepared more earnestly.
"We bought a 1985 Volkswagen camper van, fixed it up over a matter of months, then drove down to the tip of South America, exploring Patagonia, Argentina and Chile, and then turned around and continued all the way north back home to Idaho," Crosby said.
The trip was filled with adventures big and small, good and bad, but the family made the 15,000-mile, four-month trek home, managing to get to a family reunion on time, despite the fact Crosby had to have the van's broken transmission fixed and then entirely replaced during a three-week delay in a remote village on a primitive road near Corcovado National Park in Costa Rica.
"We didn't drive every day, all day and we drove slow and avoided driving at night if the roads weren't good," Crosby said. "We stopped at must-see places like Machu Picchu or Lake Titicaca, and embraced all the little adventures along the way, like eating street food in front of cathedrals or getting caught in a celebratory traffic jam after Colombian World Cup victory."
From the tip of South America up to Pocatello the family experienced everything from the grandeur of the granite spires and glaciers of the Torres del Paine biosphere reserve in Patagonia to a tropical sailing trip between Columbia to Panama, to being chased by monkeys and seeing fresh alligator tracks on a remote beach. The family lived out of the camper van the entire trip and are much closer as a consequence.
"I never dreamed I would do anything like this," Crosby said. "It didn't even make the bucket-list because it was so unlikely and far-fetched."
The family chronicled much of their adventurous drive home in their blog: http://jokersinjubilee.blogspot.com/.
---
Categories: