Idaho State University President Arthur C. Vailas to deliver annual State of the University Address on Oct. 29
October 24, 2014
ISU Marketing and Communications
Idaho State University's President Arthur C. Vailas will deliver his annual State of the University Address on Wednesday, Oct. 29, at 6 p.m. in the Bistline Theatre at the Stephens Performing Arts Center on the Pocatello campus.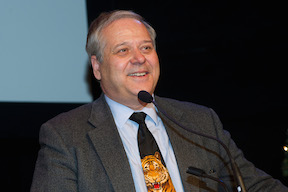 In addressing the University's health care mission and four core themes, Vailas will showcase recent student achievements and research accomplishments. He will provide an overview of the University's enrollment, including continued growth in the Early College program, and student support services.
"As educators, we are committed to developing the leaders of tomorrow. It's our mission to help our students discover a future full of opportunities," said Vailas.
In his remarks, Vailas will present his vision for the future of Idaho State University focusing on strategic increases in enrollment, campus-wide commitment to student success, and research and economic development.
The University community and public are invited to attend or watch the webcast at media.isu.edu.
---
Categories: