Idaho State University New Year's Eve Gala raises funds for student scholarships
December 16, 2014
ISU Marketing and Communications
Organizers for the Idaho State University College of Arts and Letters Annual New Year's Eve Gala hope to raise more than $30,000 for scholarships and create an endowment for student scholarships.
"We want to raise a greater amount of scholarship funds than we did last year so we will be able to again give directly to students to allow them to complete their education and launch their careers," said Heidi Jarvis, Director of Advancement, College of Arts and Letters, and Strategic University Initiatives.
The second annual New Year's Eve Gala will be held on Dec. 31 at 7 p.m. at the L.E. and Thelma E. Stephens Performing Arts Center. The theme for this year's gala is "Masquerade Ball." Scholarships are made possible from donors in the community, as well as ticket sales.
The event will begin hors d'oeuvres and bubbly, and performances with special guests throughout the entire evening that highlight ISU students. Featured ensembles will include the Jazz Band, Idaho State Civic Symphony Youth Orchestra, vocal ensembles, theatre presentations and visual art presentations.
The Gala provides the opportunity for students to showcase their talents at the ISU's highly regarded and touted Stephens Performing Arts Center, recently ranked fourth in the nation by Best Value Schools Most Amazing Performing Arts Centers. The major donors and contributors for the event support the establishment of a fund that organizers hope to grown into an endowment.
"We were able to establish the Student Performing and Visual Arts Scholarship Fund as a result of last year's inaugural event, due to the generous support of individuals, foundations, and corporations," Jarvis said. "Our sustainable goal is to grow this fund into an endowment that will go on in perpetuity, to help attract and support enrollment and retention of ISU students."
"Receiving this scholarship has meant the world to me," said Daniel Shelden, an ISU student who received an award from Gala funds last year. "With this scholarship I get to focus on what really matters to me, my education."
Senior Jack Johnson had the opportunity to participate in theatrical performances during last year's gala. Johnson was part of a group who performed a scene prepared specifically for the gala. He was also able to showcase an original piece of choreography from a theatre movement class that he was enrolled in.
"I truly had a magical time and I can't wait for the next one," Johnson said.
Johnson received a scholarship from the gala as a result of his work in the theatre performances.
"The scholarships are very helpful and it feels satisfying to know that I got it based on the hard work I put into what I love," said Johnson. "The scholarship means a lot to me personally because it is positive proof that there is an appreciation for my art. The scholarship lets me know that my faith is not misplaced and that there is monetary help in the pursuit of a performance theater degree."
Tickets are $125 and are available for purchase at the ISU Stephens Center Box Office, by calling 282-3207 or at isu.edu/cal.
Event sponsors include Farm Bureau Insurance, Mountain View H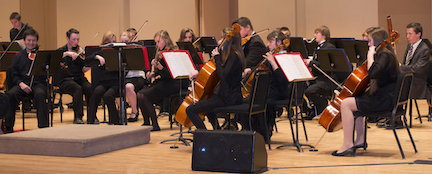 ospital, Portneuf Medical Center, Idaho Central Credit Union, Pocatello Eye Care, KPVI News 6, Premier Technology, Inc., Southeast Idaho Gastroenterology, P.L.L.C., Charles Evans, M.D., Bank of Idaho, Warren Willey, M.D., Scott Huneycutt, M.D. and Idaho Power.
Event partners include ON Semiconductor, Bell Photography, Chartwells, Safari Graphics, Hayden Beverage, Unforgettable Events, Flowers by LD, Jena Wilcox, Costco and Black Night Limo.


---
Categories: