Idaho State University Jazz Band to headline ISU New Year's Eve Gala that raises funds for scholarships
November 25, 2014
ISU Marketing and Communications
The Idaho State University Jazz Band will headline the College of Arts and Letters' New Year's Eve Gala for the second year in a row, on Dec. 31 at 7 p.m. in the Stephens Performing Arts Center.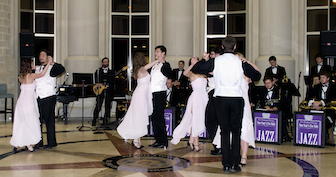 "People really seemed to enjoy our performance last year," said Patrick Brooks, jazz band director, about the event that raised more than $30,000 for student scholarships last year.
"People liked the chance to dance with live music, while they are dressed up. Live music makes dancing more exciting."
The Jazz Band will perform in the Marshall Rotunda. The Farm Bureau is sponsoring gala events in the rotunda.
"Big, beautiful spaces, like the Rotunda, are inspiring and add to the special and festive atmosphere of an event like the New Year's Eve Gala," Brooks said.
Brooks said students in the ISU Jazz Band are excited about performing in the New Year's Eve Gala again.
"As artists we look at the gala like a big gig," said Brooks. "We really like that we get an immediate response to what we are doing, and that people seem to be enjoying the music."
Music from the 1930s, 1940s and 1950s will be on the band's set list, including music from artists Ray Charles, Duke Ellington and Glenn Miller.
Tickets are $125 each and can be purchased at 282-3207, isu.edu/cal, or at the ISU Box Office. Tables of 10 are also available for purchase.
---
Categories: