Idaho State University debate team takes top honors in trip to Twin Falls
November 4, 2014
ISU Marketing and Communications
Idaho State University debaters Brandon Biggs and Patrick Loftus earned top speaking honors and placed third overall in British parliamentary debate at the College of Southern Idaho. Nicholas Tarbet and Karen Lei also competed.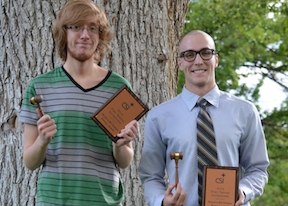 "I am so proud of their success and the way that they positively represent ISU," said Sarah Partlow Lefevre, director of the James M. and Sharon E. Rupp Debate Society at ISU. "The skills they are learning today will last long after the debates end."
The Fran Tanner Invitational at the CSI hosted 70 debate entries in three divisions of debate. After four preliminary debates, Loftus and Biggs were seeded second and invited to debate in the final round of British parliamentary debate where they placed third. Loftus and Biggs were also honored as the top speakers at the tournament, with a total of 693 speaker points. They finished nine full points above the second-place team. Loftus and Biggs took first or second place in three of their four debates.
"I had a great time at the tournament working together with Brandon," Loftus said. "I was very humbled to get the placing we did and am excited to be receiving positive results mid-season."
The team debated in British parliamentary debate, which is a debate format designed to include eight individual speakers from four teams. British parliamentary is a fast-paced, fun debate format that allows audience participation. Each speaker has one, seven-minute speech but may ask questions of other speakers during their speech times, mimicking the style of the British Parliament. This type of debate is accessible to public audiences and encourages proper delivery, jokes and rhetorical flourishes while relying on the foundations of a good argument. Rather than choosing a winner and a loser, the judges collaborate to rank order the four teams participating in the debate.
"British parliamentary debate is particularly good at encouraging students to develop analytic skills, good delivery practices and a persuasive style," said Lefevre.
If you are interested in debate or would like to learn more, please contact Sarah Partlow Lefevre at partsara@isu.edu.
---
Categories: