I Chose ISU: Gabrielle Kane, Masters in Theatre and Business Administration student from Idaho Falls
November 3, 2014
ISU Marketing and Communications
On Sept. 26, 2014, graduate student Gabrielle Kane performed in her self-produced play "Luck & Coincidences." She says producing her own play in the L.E. and Thelma E. Stephens Performing Arts Center, in the Rogers Black Box Theatre, is the biggest opportunity she has been given at Idaho State University.
"The world premiere of my play was at Idaho State University," Kane said. "I appreciate the time and energy Vanessa Ballam, my director and faculty advisor, as well as my fellow cast and crew members spent to bring this show to life. This has been the greatest achievement of my theatre career."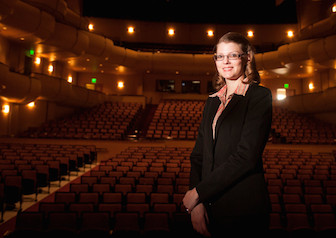 She is currently a graduate student studying to get her master's degree in theatre and business administration. Kane, who is married and has an 18-month-old daughter, chose to pursue her graduate degrees at ISU because of the flexibility and cooperativeness of both programs.
"ISU gave the option of putting together two degrees that I wanted to work toward," said Kane. "I have been allowed to combine business classes with the theatre requirements, and also combine my theatre classes with the business requirements."
Kane received her undergraduate degree in theatre performance from the University of Nebraska-Lincoln. She has been active in Idaho Falls community arts, school plays, and volunteering at Actors' Repertory Theatre of Idaho (ARTI) and working at the Colonial Theatre in Idaho Falls since high school. She is also on the Board of Directors at Westside Players, as well as performs in various theatres in the community.
Kane will graduate in May, but has no plans after graduation yet. She hopes to apply her passion for theatre and her education in business to her future career.
"It has been nice to see two departments working together to help one student," said Kane. "They are helping me get what I want out of ISU."
---
Categories: