Fossil remains of 70,000-year-old-plus mammoth transferred to ISU Idaho Museum of Natural History
October 28, 2014
ISU Marketing and Communications
The Bureau of Reclamation reports that the fossil remains of a more than 70,000 year-old mammoth discovered near American Falls Reservoir were excavated and transferred in late October to the Idaho Museum of Natural History at Idaho State University in Pocatello.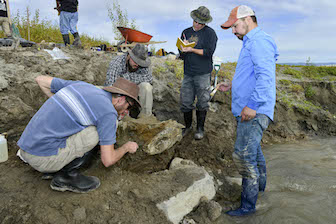 A partial skull encased in plaster and parts of one tusk were carefully removed by IMNH paleontological staff under contract with the Bureau of Reclamation on the weekend of Oct. 18. Museum researchers who examined growth rings on the tusk estimate the mammal was 16 years old at the time of its death.
"The exposed fossil will be cleaned and prepped for long-term storage or possibly exhibit, depending on its state of preservation," said Mary Thompson, IMNH senior collection manager and lead contractor for the fossil recovery effort. "This find is exciting because there are still teeth in place in the jaw – so much can be learned from that."
Thompson credited ISU students, many participating in ISU's unique Career Path Internship program, for the help in the project.
"We couldn't have completed the project without the students that were involved," Thompson said. "They did the most work on this project. This is exactly the kind of experience that can't be taught in a classroom. Our students get unique opportunities like this to work in the field."
The threat of rising water in the reservoir prompted Reclamation to act quickly to recover the remains. Under the Paleontological Resources Preservation Act, federal agencies are required to manage paleontological resources located on federal land. Also, the law that was enacted in 2009 says the fossil locations should be kept confidential to protect them from looting.
The fossils were found in an irrigation drainage, about 30 feet below the reservoir high water mark. Reclamation's Upper Snake Field Office Manager Roland Springer believes that increased flows in a small drainage due to unusually heavy rainfall in August caused erosion which led to the exposure of the tusk and skull artifacts.
"We're very lucky to have recovered them," says Springer. "Had they not been reported to Reclamation, the fossils may have been eroded and carried away into the reservoir."
Casual collection of fossils is not permitted on Reclamation-managed areas at American Falls Reservoir. If fossils are found on reservoir lands, Reclamation asks the public to photograph them, note their GPS location if possible, and report their findings to the nearest Reclamation office or the IMNH in Pocatello.
"The scientific value of those specimens is so high that we really need to make sure that they get into the hands of researchers who can interpret these things and help us understand their significance," says Reclamation's Regional Archaeologist Sean Hess.
View fossil excavation photos: http://www.usbr.gov/pn/images/photos/afmammoth2014.pdf.
For more information on the Idaho Museum of Natural History, visit http://imnh.isu.edu/.
Contacts: David Walsh, (208) 378-5026 or dwalsh@usbr.gov, or Jennifer Huang, (208) 383-2257 or Jhuang@usbr.gov
About the Bureau of Reclamation:
Reclamation is the largest wholesale water supplier and the second largest producer of hydroelectric power in the United States, with operations and facilities in the 17 Western States. Its facilities also provide substantial flood control, recreation, and fish and wildlife benefits. Visit our website at www.usbr.gov.
---
Categories: