Two Idaho State University anthropology students land internships with Smithsonian museums this summer
May 14, 2013
ISU Marketing and Communications
"I would live in a cardboard box if I could work at the Smithsonian (museums in Washington, D.C.)," said Jennifer Hernandez, an Idaho State University senior anthropology major with an emphasis in archeology, who graduated from Idaho Falls High School. "I still can't believe that I'm getting an internship with a stipend to go work there this summer."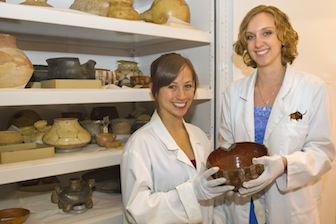 Michelle Carpenter, a fellow ISU student and Career Path intern at the Idaho Museum of Natural History (IMNH), concurred.
"I would have lived in a box, too," said Carpenter, who graduated from Marsh Valley High School and is a senior anthropology major with an emphasis in forensic anthropology.
Both ISU students and IMNH interns have landed internships this summer with the Smithsonian museums in Washington, D.C.
"I am very proud of these students," said Herb Maschner, director of the IMNH. "They are an example of the best of ISU and have contributed greatly to the IMNH. This is also a shining success of the Career Path Internship program, which is intended to be a bridge to greater opportunities in a student's career – a summer at the Smithsonian is one of the greatest opportunities available."
Carpenter has spent two years at IMNH cataloging and inventorying a variety of archeological collections. She'll be heading to Washington, D.C., to work as a research assistant May 28-Aug. 2 at the Smithsonian's Natural Sciences Resource Center working under Doug Owsley and Nicole Little. Carpenter will be working on a project analyzing the metals in human and animals remains.
"It will be nice for me to transfer all that I've learned here working as a CPI intern to a bigger scale and use it to be working at the Smithsonian," Carpenter said. "I think I am bringing some value to them and I hope that I will represent the Idaho Museum of Natural History well."
Hernandez, who has been a Work Study and CPI intern at the IMNH for four years, will work at the Smithsonian National Museum of the American Indian. She will assist with the processing of new additions to the museum's archeological collections. Her activities will include the day-to-day processing of acquisitions and inventory and learning the techniques and materials used to create ethnographic and contemporary works of art.
"It has always been one of the goals of mine to be at the Smithsonian, but now it is a little scary because I'm actually going there to work," Hernandez said. "It might be hard not to be star-struck the whole time."
Both students expressed their appreciation for the experience and support they have received from the IMNH.
"The (IMNH) museum has really helped me spur my career," Carpenter said. "Everyone here has been extremely supportive and I probably wouldn't have even applied for the internship if I had not be encouraged by a (IMNH) collections manager."
The ISU interns also said it probably helped that they had worked with Smithsonian databases and collections during their time at the Idaho Museum of Natural History.
The Idaho Museum of Natural History at Idaho State University began a new affiliation and new cooperative research ventures with the Smithsonian Affiliations program during the summer of 2012. The IMNH is the only museum in Idaho with a Smithsonian Affiliation, and one of the few in the Intermountain West.
Smithsonian Affiliations offers museums, educational and cultural organizations across the country the opportunity to have greater access to Smithsonian collections and resources. Through the Smithsonian Affiliations program, the Smithsonian shares its artifacts, programs, and expertise across America. The Idaho Museum of Natural History will now be able to host Smithsonian Institution exhibits.
ISU's CPI program offers students paid internships. The purpose of this program is to provide opportunities for the University to employ students on campus in positions related to their academic and professional interests.
###
---
Categories: