Pittsburgh Steeler great/ISU alumnus Merril Hoge to present his story at 'Find A Way' seminar July 25 at ISU Performing Arts Center
July 2, 2013
ISU Marketing and Communications
Idaho State University alumnus and football and broadcast great Merril Hoge will return to his hometown Pocatello to tell his story in a "Find A Way" free seminar at 7 p.m. July 25 in the ISU Stephens Performing Arts Center.
A leading advocate for concussion education, Hoge will provide advice to coaches, parents and athletes on how they tackle the concussion crisis facing sports.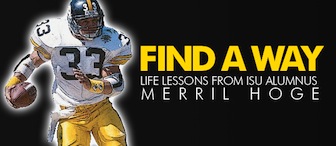 Hoge is a former Highland High School sports star, ISU Bengal football record holder and Pittsburgh Steeler running back, and is currently an analyst and sideline reporter for ESPN.
During his seminar he will also share his inspirational story of overcoming life obstacles. He will recount his playing days in Pocatello, his rise to the NFL, his bouts with concussion and his courageous battle with cancer. His presentation is geared toward school and sport administrators, coaches, parents and athletes.
The event is sponsored by the Portneuf Medical Center Sports Medicine Institute and the ISU Center for Sports Concussion.
Seating is limited so participants should RSVP to 208-239-1048 to reserve their seats by July 22.
For more information on Hoge's "Find A Way" philosophy visit merilhoge.com.
###
---
Categories: