Nontraditional student Brandalin Barnes succeeds at heading back to school at Idaho State University
May 10, 2013
ISU Marketing and Communications
Brandalin Barnes of Chubbuck has found herself doing homework at her daughter's volleyball games and reviewing note cards at her son's basketball games while preparing for finals at Idaho State University this spring.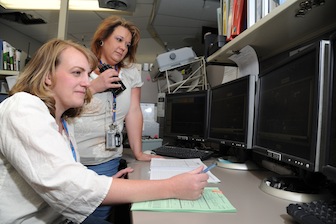 "I've incorporated school into my life where ever I can," said Barnes, who will graduate with an associate degree in nuclear operation technology from the Idaho State University College of Technology and will walk at ISU Commencement on May 11.
"Going to school full time and being a mother is definitely a balancing act.
Sometimes my house looks like a disaster but you get to it when you can. It has been a little crazy sometimes."
Many nontraditional university students are familiar with that balancing act, and Barnes has made the most of hers. She was honored as the ISU College of Technology's Outstanding Student Award winner earlier this spring. A mother of four, she has earned a 4.0 grade point average in her program. She and her husband, Craig, are parents to Curtis, 16; Ben 13; Carlie, 12, and Savanah, 8.
Her journey back to college, when her youngest child entered first grade, has been challenging, but rewarding. In the 1990s, straight out of high school, Barnes completed one year at what was then Ricks College and is now BYU-Idaho and another year at Mt. Hood Community College in Oregon where her husband was finishing up his degree.
She met and married her husband Craig at Ricks College. Though happy being a homemaker, doing foster parenting for 12 years and being a foster-care teacher for the Idaho Department of Health and Welfare, she always knew she wanted to finish her degree, but couldn't decide which degree she wanted.
"It took me so long to get back to school because I really didn't know what I wanted to do," Barnes said.
That decision was moved along when her husband changed jobs in 2007 and started a business and no longer had benefits. Craig had been working for Colonial Funeral Home and then with a partner opened Wilks Funeral Home in Pocatello.
"I decided I wanted back into the workforce and spent a year looking for a job, but I couldn't find one that offered benefits in a competitive market without a college degree," Barnes said. "I couldn't find anything."
She decided to return to school to become more employable.
"I really searched for a program that had a good job placement rate, that wasn't going to be outdated or inundated with applicants and settled on the energy systems program," Barnes said. "I figured we will always need energy, and I've always been interested in math and science."
For others considering returning to school, Barnes emphasized the importance of selecting a good fit, and utilizing the services available to help choose a career and to help earn a degree once a path is chosen.
"What I did was talk to a counselor in the College of Technology (which are also available in academic and other colleges at ISU)," she said. "You need to talk to a counselor with your goals in mind, and about what you want and need out of an education. Their counseling helped me narrow down my choices and to settle on the one I chose."
Once school begins, she also recommends students take advantage of the many services offered at ISU.
"I was pretty nervous about coming back and I've always had text anxiety," Barnes said. "But up here (at the College of Technology) and at lower campus there is a lot of support available. You can take classes on study skills and testing skills and I found the support really helpful."
Although she will receive her 2-year associate degree at 2013 commencement, Barnes will continue school another year – taking classes this summer and fall and next spring – and plans to earn her bachelor's degree in nuclear operations by May 2014, whether she is working or not.
She is happy with the education she has received at ISU, and commented on her favorite aspect of her program.
"I think what impresses me the most is how our programs at the college interact with industry to find out what industry needs and to create really good programs to support that," Barnes said. "For one of my classes for the whole year all my instructors were from the INL (Idaho National Laboratory). Not only are you learning a topic, but you're learning from someone in the industry and you leave here with hands-on skills."
Throughout her time at ISU Barnes has received excellent support from her husband and family.
"My husband has been hugely supportive," Barnes said. "That has been the key to my success."
Barnes received a scholarship from the American Nuclear Society and the College of Technology Distinguished Student Scholarship and her extracurricular activities included judging Highland High School Debate, teaching foster parent training classes and attending her children's activities.
###
---
Categories: