Marvin Lewis: 'Once a Bengal, always a (Idaho State University) Bengal'
February 15, 2013
ISU Marketing and Communications
Written by John van Vliet, ISU Sports Information Intern
"Once a Bengal, always a Bengal" rings true for many alumni from Idaho State, but perhaps not more so than for Cincinnati Bengals head coach Marvin Lewis.
Before Lewis was coaching NFL teams and earning Coach of the Year honors, he, too, roamed the hallways of Garrison Hall, played for the Bengals in Holt Arena and went fly fishing with teammates in the Teton Mountains.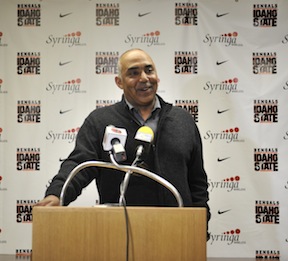 "I was here when the (Eli M. Oboler) Library was built across the street from Rendezvous, which use to be East Hall where I lived," Lewis reminisced, speaking to the media on Feb. 14.
Lewis was honored with the Distinguished Alumni Award last September, the highest award ISU alumni can receive for his active support to the university he spent nine years with. He was pre-occupied with his own football season to make a visit to Pocatello for the award at that time. On Thursday, he returned to his starting platform.
Attending from 1977-80, Lewis played linebacker for the Bengals under coaches Joe Pascale, Bud Hake and Dave Kragthorpe. He would then join Kragthorpe's staff as a graduate assistant coach in 1981 till 1984. His first year in coaching linebackers was the year ISU won the National Championship. From there started his road to becoming one of the most respected figures in the National Football League.
After stints as a linebacker coach in the college ranks then as defensive coordinator with the Baltimore Ravens and Washington Redskins, Lewis was hired by Cincinnati to be their head coach in 2003. His current tenure of nearly 10 years is the second-longest in the NFL now, behind only Bill Belichick of the New England Patriots. In 2009, he was named the NFL Coach of the Year. He has led the Bengals to four playoff appearances and has turned around a team that was once called the "Bungles."
"I would not have been able to do what I am doing today had it not been for Idaho State," Lewis said. "It has been a lot of time and a lot of great memories of being here in Pocatello. (From ISU) I learned how to communicate with people, how to coach and teach football from the coaches I had here and all the people in the community that were so instrumental in my own development. I am just very fortunate to come here."
Lewis grew up in the small town of McDonald, near Pittsburgh, in Pennsylvania, a long ways away from Pocatello, ID. Through word of mouth from coaches that he knew in the east, a scholarship was open for Lewis to take. While recalling his recruitment to Idaho State, Lewis joked with members of the media on Thursday, "The coach said it was in the mountains, and I could not figure out what that meant; if it meant the buildings sat on the top of a peak."
Once adjusted to the mountains of Pocatello, Lewis noted that the people from the university and the community made an impact in how he coaches today.
"They taught you how to treat people the correct way," he said. "I think that is important today. It is important in what I do daily; it's important the way my staff carries themselves in what we do. Sometimes I feel like those things are over-looked."
Not only did life lessons stay with him from ISU, but love as well. Lewis met his wife Peggy in Garrison Hall while it was still a dormitory. He proposed to her at a seafood restaurant in town, which is now Red Lobster. During their time back in Pocatello, Lewis said that he and his wife ate dinner at the Sandpiper, a place that they could never afford while students, he joked.
"A big meal for us was if we could get a bag of chips from the College Market," he added with laughter.
A lot has changed since he and Peggy have been in Pocatello. He noted the additions the university has made, especially the Rendezvous, and the overall growth of the town. Part of his returning tour to ISU was to view the Stephen's Performing Arts Center.
"Seeing the University continue to grow and continue to prosper is great and I am glad that Peggy and I can try to continue to help that process as much as we can."
He added that the university adds to the experience he had in Pocatello.
"The university, to me, makes Pocatello. People end up staying in this area. That says a lot for it."
Lewis keeps in touch with many of his coaches and teammates. Even during a busy NFL schedule, old friends will visit him when the Cincinnati Bengals play nearby. He even remembers seeing ISU track and field coach Dave Nielsen around campus all those years back.
Part of Lewis' time spent in Pocatello was to talk to the players and coaches of the ISU football team. He conveyed to the team the same message of building connections with people as well as the importance of academics.
"To work hard in the classroom, I think that stuff gets overlooked because we only see the highlights on TV," he said. "The best players I have ever been around and have coached, and I have been fortunate to be around six or seven Hall of Fame players, they were the smartest guys. They were the guys who knew how to take the best notes and knew how to do their job to the utmost of their ability. And they had great physical tools, but their mental aptitude helped them to be the best players."
Lewis is someone who has sincere gratitude for what Idaho State and its people have done for him. He is proud of his time here and is excited for what the future holds for ISU athletically and academically as well as what is in store for Pocatello."Lot of memories of being here," Lewis said. "I told athletic director Jeff Tingey I wished I had a penny for every time I walked across the field from Garrison and Turner to the dome or from where I lived."
###
---
Categories: