Idaho State University's Corey Schou elected to board of (ISC)², world's largest non-profit computer security certifying organization
March 13, 2013
ISU Marketing and Communications
Idaho State University's Corey Schou has been elected to the board of (ISC)², the International Information Systems Security Certification Consortium, Inc., which is the largest not-for-profit global leader in educating and certifying information security professionals throughout their careers.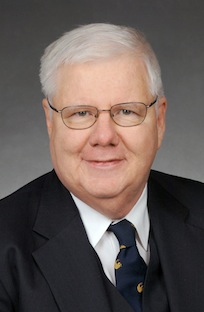 Schou, who is also vice chair of (ISC)², is a university professor of informatics, professor of information systems and associate dean for the computer information systems program at Idaho State University. He is also director of the National Information Assurance Training and Education Center (NIATEC) and the Informatics Research Institute (IRI) at ISU. In addition, he is a founder and current chairperson of the National Colloquium for Information Systems Security Education.
"My election to the (ISC)² board is a strong statement about the quality of our programs and the level of research that Idaho State University does," Schou said. "Otherwise, I wouldn't have been considered for this position."
Headquartered in the United States and with offices in London, Hong Kong and Tokyo, (ISC)², provides vendor-neutral education products, career services, and Gold Standard credentials to professionals in more than 135 countries. Its membership is made up of nearly 75,000 certified professionals worldwide. For more information on (ISC)², visit www.isc2.org/default.aspx
Under Schou's leadership, the Simplot Decision Support Center Center was cited by the Information Systems Security Association (ISSA) for Outstanding Contributions to the Profession and the ISU Information Systems program was designated the National Center of Excellence in Information Assurance Education
Schou's research and publication interests include information security and privacy, ethics, collaborative decision-making, the impact of technology on organization structure, and the application of technology to managerial decision-making. His work has resulted in more than 200 monographs, books articles and formal presentations.
Using collaborative tools he designed for curriculum development, he compiled and edited computer security training materials and standards for the Department of Defense and the National Institute of Standards. These have now been adopted across the federal government.
###
---
Categories: