Idaho State University-Meridian pharmacy researchers working on better drugs to fight cancer
May 3, 2013
ISU Marketing and Communications
Idaho State University-Meridian graduate assistant, Nicole Frank, is conducting research to understand the relationship between chemotherapy drugs and the toxicity they cause.
Frank, a microbiologist working on her Ph.D. in pharmacology, is helping Gem Pharmaceuticals, LLC of Birmingham, Ala., determine why a potential cancer drug currently in clinical trials appears to be less toxic than the chemotherapy drug doxorubicin, which is widely used to treat a variety of cancers but can lead to heart failure after long-term use.
­­­­­­­­­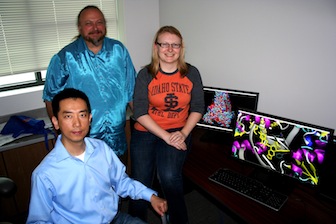 Frank presented initial results of her research in a poster titled "Effect of Non-Cardiotoxic Doxorubicin Analog on Decatenation of DNA by Topoisomerase II" at the annual meeting of the American Association for Cancer Research in Washington, D.C., in April. More than 18,000 researchers from around the world attended.
She and her team have found that Gem's experimental drug, 5-imino, 3-deoxydoxorubicin, appears to fight cancer tumors as effectively as doxorubicin, but without targeting the subclass of enzymes that protect the heart muscle.
"Our original question that led to our project was: What is the molecular reason why 5-imino,13-deoxydoxorubicin is less toxic?" said Frank.
For 50 years, doctors have used doxorubicin to treat non-Hodgkin's lymphoma, acute leukemia, and breast, lung and ovarian tumors. However, scientists note in some patients, doxorubicin can bind to enzymes in heart muscle cells, unraveling their DNA and leading to congestive heart failure.
Frank's research involves using these drugs to poison a class of enzymes found in tumor and heart cells to determine if there is a difference. She conducts her research at the Boise Veterans Affairs Medical Center and the L.S. Skaggs Pharmacy Complex at ISU-Meridian.
Frank is collaborating with Todd Talley, Ph.D., and Dong "Danny" Xu, Ph.D., assistant professors of biomedical and pharmaceutical sciences in ISU's College of Pharmacy, and Barry Cusack, M.D., who is based at the Boise V.A.
Talley and Frank say their research has the potential to unlock new avenues in drug development, noting the possibility of applying the same science to the discovery of new antibiotics.
For more information, contact Nicole Frank at frannic2@pharmacy.isu.edu or Todd Talley at talley@pharmacy.isu.edu.
###
---
Categories: