Idaho State University math team places near top in national mathematics modeling content
April 24, 2013
ISU Marketing and Communications
Three undergraduate Idaho State University students were sequestered in a room for most of four days earlier this semester to do battle with 5,636 other three-person teams from 14 countries from around the world in the 2013 COMAP (The Consortium for Mathematics and Its Applications) Mathematics Modeling contest.
The team worked from about 9 a.m. to as late as midnight during the four-day contest, averaging 15- to 16-hour work days.
At the end of the marathon event, ISU's team earned a meritorious rating, finishing in the top 15 percent of competing teams.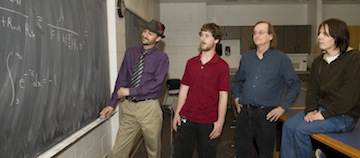 The ISU team was comprised of two Pocatello natives, Doug Walker, a chemistry major, and Damon Herrera, a statistics major, and Blackfoot's Garrett Castle, who has a double major in statistics and business management. Their advisor is DeWayne Derryberry, ISU associate professor of mathematics.
"The fact that all three of us where locked in a room for most of 96 hours and had to get along with each other and work under the stress of a tight deadline, I think we managed quite well," Walker said.
The ISU team managed well indeed, finishing with the same rating as teams from Duke University, the University of Washington, MIT – Massachusetts Institute of Technology and Cornell University, and with a higher rating than teams from universities such as Stanford, John Hopkins and Harvard.
The contest had two problems, and the ISU team chose "Problem B: Water, Water, Everywhere." The team had to build a mathematical model for determining an effective, feasible and cost-efficient water strategy for 2013 to meet the projected water needs in 2025. They could choose from five countries including the United States, China, Russia, Saudi Arabia and Egypt, with the ISU team choosing the latter.
The team was require to use their model to discuss the economic, physical and environmental implications of their strategy and provide a non-technical position paper to governmental leadership outlining their approach, their plan's feasibility, its cost and why it was the best water strategy.
"When all was said and done, we had a really strong paper," Herrera said. "That was verified by how well we did."
Derryberry said he was proud of his students' efforts.
"It is very unusual for three rookies in the contest to score so well in the competition," Derryberry said. "None of them had participated in a contest like this before and it usually takes doing a couple of them before a team does well."
The participants said it was a valuable experience.
"It was just real intense in the competition, the three of us working," Castle said. "Our results say a lot about the kind of education you can get at ISU."
###
---
Categories: