Idaho State University Give Kids a Smile Day: 91 underserved children receive free dental hygiene care
March 14, 2013
ISU Marketing and Communications
Idaho State University Department of Dental Hygiene students and faculty in collaboration with the Southeastern Idaho Health District and the ISU Family Dentistry provided free dental hygiene care to 91 children as part of the 2013 ISU Give Kids a Smile Day activities.
The students, members of the ISU Student Chapter of the American Dental Hygienists' Association, and their partners delivered an estimated $18,748 of free dental hygiene care to the children from low-income or underinsured families, according to Karen Portillo, ISU assistant professor and community outreach coordinator for the ISU Department of Dental Hygiene.
The children were provided with a variety of services at the ISU Dental Hygiene Clinic, including cleanings, oral and dental examinations, x-rays, sealants, oral health education, fluoride applications, and a referral to a volunteer dentist as needed for restorative care at no charge for a limited time.
"It is a privilege to help children who are in need and who would not otherwise receive care," Portillo said. "We're proud of our students' part in helping with the coordination and implementation of this event. It is beneficial to our students, too, because it provided them an opportunity to give back to the children in their community."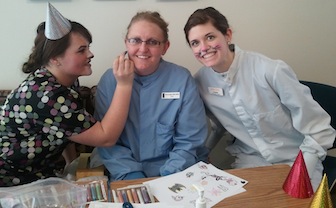 Eligibility for treatment was based on WIC income guidelines; however, children who received care did not have to qualify for WIC.
The good news for the participants doesn't stop with the dental exams: the 54 children who had cavities have been referred to a group of 29 dentists from Pocatello, Blackfoot, American Falls, Soda Springs and Twin Falls who will treat the cavities with no charge.
"The private dentists who help with this program are exceptionally generous," Portillo said. "They will be donating a large amount of time and materials to ensure that these children are disease and pain-free."
In all, 26 senior and 29 junior ISU dental hygiene students participated in the Give Kids a Smile Day activities, along with 16 ISU dental hygiene faculty, the director of ISU Family Dentistry Brian Crawford and four of his residents, and Paul Gagnon, a private practicing dentist from the Pocatello area.
"We had a lot of fun with the kids," Portillo said. "We had 200 pairs of children's sunglasses donated to the clinic that the kids picked from when they received their exams. We also did face-painting, which the kids also enjoyed. We had one 3-year-old that didn't want to leave when the event was over, which says a whole lot when a child that young wants to hang out at a dental office."
In an addition to Give Kids a Smile Day, the ISU Dental Hygiene Clinic offers preventive oral health care services and treatment of periodontal gum diseases to children and adults for nominal fees. To schedule an appointment, call the ISU Dental Hygiene Clinic at (208) 282-3282.
###
---
Categories: