Idaho State University Doctor of Physical Therapy graduate Danson Hall took advantage of 'extras'
May 10, 2013
ISU Marketing and Communications
Take advantage of the extra opportunities at Idaho State University.
That's the advice from Danson Hall who will walk at ISU's 2013 Commencement to receive her Doctor of Physical Therapy (DPT) degree. Hall, 27, who graduated from Blackfoot High School, followed her own advice earning both her doctoral and undergraduate degrees from ISU.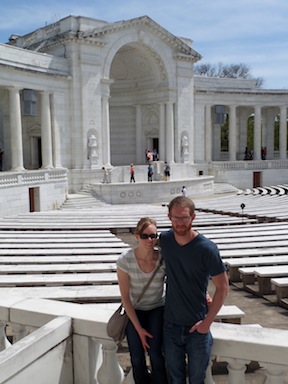 "If people just take advantage of what is available they can do more for themselves and get more out of their degree," Hall said. "Don't just try the easiest route for your degree, but see what's out there. Ask other students what they've done and work with your advisor to see what is out there."
Hall, whose maiden name is Stark and is married to 2009 ISU English graduate Zach Hall, just returned from a 16-week externship at the National Institutes of Health in Bethesda, Md., in the Washington, D.C., metro area. The externship was both a clinical and research internship that Hall wouldn't have been aware of if she hadn't asked faculty and students what previous students in her discipline had done.
Both professionally and personally, the NIH externship has benefitted Hall.
"It was an amazing experience," Hall said. "For a student, the NIH is just an incredible place to go. There's the opportunity to view different things in the clinic where you work and visit with other therapists in other department within the clinic. And then there are all the things that go on outside of the clinic."
Hall worked in the Rehabilitation Medicine Department within the NIH's Clinical Center. She earned credit for completing research on people with neuromuscular disorders who had congenital muscular dystrophy where she studied the relations between knee extension strength and the ability for patients to stand. The research study she completed with her clinical instructor will be presented at the 18th International World Muscle Society Seminar in October and the abstract has been accepted by the World Muscle Society. She will continue to work with my clinical instructor to complete the manuscript.
She also received credits for her clinical work at the NIH. Outside of her discipline, she was able to absorb some of the other educational benefits offered at the NIH.
"The NIH always has lectures and seminars going on for people in other departments," Hall said. "Most of these events are open to anyone who wants to attend and are offered online as well. There were tremendous educational opportunities if you took the time to do them."
Her time in the metro Washington, D.C., metro area wasn't all about her externships, however. Hall and her husband were able to tour many of the area's major tourists sites such as the Washington Mall, the Whitehouse, the Capitol and some of the Smithsonian museums. The Halls also took road trips on scenic byways and explored the opportunity to eat a variety of ethnic foods not generally available in Southeast Idaho.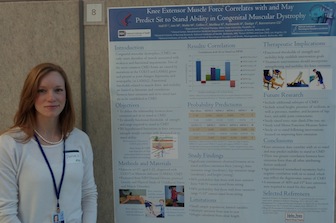 "Coming from Idaho I was intimidated about going places (in the Washington, D.C. area), but it turned out to be a convenient place to get around," Hall said. "There were a tremendous amount of opportunities in the area."
While earning her undergraduate degree in sports science and physical education at ISU Hall also took advantage of the opportunities ISU had to offer by finding an internship she enjoyed.
One thing she found out that she wanted to share with other ISU students in health professions is the variety of opportunities that the NIH offers students.
"The NIH has an incredible system for students," Hall noted. "You can do internships at the undergraduate, graduate and post-graduate level. There are different clinical affiliations they offer, and they have short-term summer programs and one-year programs for post-docs and graduates. They even have some paid positions."
Those interested in what the NIH offers can visit the web at www.training.nih.gov.
Hall is now applying for jobs and trying to decide what direction she wants to go with her DPT degree.
"I'm definitely applying for jobs and am looking into acute-care settings and continuous clinical work with some research as well," Hall said. "The specific area I am interested in is cancer rehabilitations."
Her experience with the NIH and the fact she participated on published research studies will help her in the job market.
"One thing about our program is that it is very versatile," Hall said.
###
---
Categories: