Idaho State University Debate Team finishes first at regional championship and qualifies for the National Debate Tournament; ISU prepares to host CEDA National Tournament
February 28, 2013
ISU Marketing and Communications
Idaho State University debaters Roger Copenhaver and Matea Ivanovic went undefeated and won first place at the Northwest District Tournament in Walla Walla, Wash., earning a trip to the National Debate Tournament, which determines intercollegiate debate champions each year.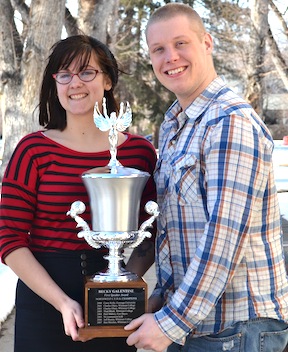 Copenhaver, of Seattle, and Ivanovic, of Boise, won all six of their debates and were also recognized individually. Ivanovic won third-place speaking award and was elected by district coaches as Most Valuable Player, an award that recognizes competitive success, leadership, and collegiality throughout the debate season. Copenhaver won the four-place speaking award at the tournament held in late February.
Seventeen teams from ISU, Whitman College, Gonzaga University, University of Puget Sound, Weber State University and The University of Wyoming competed in the district tournament, of which five qualified for the National Debate Tournament.
Leading up to the district championships, Ivanovic and Copenhaver debated at 10 intercollegiate debate tournaments between September and February travelling to places such as Kentucky, Harvard, Wake Forest, The University of Southern California and Northwestern University.
In their 72 preliminary debates, the duo maintained an impressive record of 66.66 percent. While in single elimination debates, they won seven of 11 debates resulting in victory 63 percent of the time. Notable finishes included fifth-place finishes at Gonzaga, UNLV and California State University at Fullerton and a second-place finish at Idaho State University.
Additionally, Ivanovic earned individual recognition for her speaking skill at Harvard (11th place), Idaho State (3rd place) and UNLV (10th place). Copenhaver, Ivanovic and Assistant Coach, Scott Odekirk were also stranded in Boston for five days following super storm Sandy at the end of October.
"After weathering a super storm, debating in competition for 261 hours, and spending 47 days travelling to debate tournaments, one would think this team is ready for a rest," said Sarah Partlow Lefevre, ISU director of debate. "However, the season is not quite over and Ivanovic and Copenhaver are gearing up to compete at nationals."
Ivanovic and Copenhaver, in concert with freshman-sophomore team Andrew Hoth and Kendra Doty, will compete at the Cross Examination Debate Association National Tournament from March 22-26 at Idaho State University.
Copenhaver and Ivanovic will then attend the National Debate Tournament from March 28-April 1 at Weber State University in Ogden, Utah.
"Ivanovic and Copenhaver have worked hard and have some big wins to show for it this season," Partlow Lefevre said. "With the amount of time and energy they invest, it is nice to see them succeed."
The debate topic this years is: "Resolved: The United States Federal Government should substantially reduce restrictions on and/or substantially increase financial incentives for energy production in the United States of one or more of the following: coal, crude oil, natural gas, nuclear power, solar power, wind power."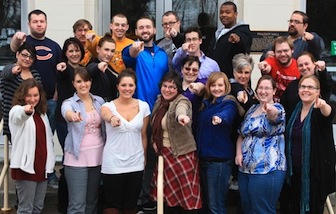 While the debaters prepare their arguments, Coach Partlow Lefevre is preparing for a different challenge as host of the Cross Examination Debate Association (CEDA) National Tournament. This will be the second time in four years that Idaho State hosts the CEDA national tournament.
Partlow Lefevre is leading a team of 25 students who are planning and managing all aspects of the tournament. Amenities Idaho State University students are supplying for tournament participants include a tournament Facebook page, a website, team and competition photography, and webcasting of the final round of debate. All of this is made possible by generous support from the College of Arts and Sciences, the Department of Communication and Rhetorical Studies, The Rupp Debate Society and numerous sponsors from the local business community.
CEDA Nationals should bring in more than 450 participants from universities such as USC, University of California Berkeley, Kansas, Wake Forest and Harvard to Pocatello for the four day long tournament. The CEDA tournament is the largest intercollegiate policy debate national championship. It is often referred to as "the people's tournament" because of the diversity, open entry policies and the number of attendees. More than 160 two-person teams will register for the event from more than 60 universities nationwide.
###
---
Categories: