Idaho State University business Professor Byers invited to teach MBA course in Iceland
April 15, 2013
ISU Marketing and Communications
Steven S. Byers, Idaho State University College of Business professor, has been invited to teach a corporate finance course during spring semester of 2013 at Reykjavik University, Iceland.
Reykjavik University, located in Reykjavik, the capital of Iceland, is the country's largest private university. More than half of the courses in the Masters of Business Administration program at the university are taught by foreign faculty flown in from some of the best European and American business schools.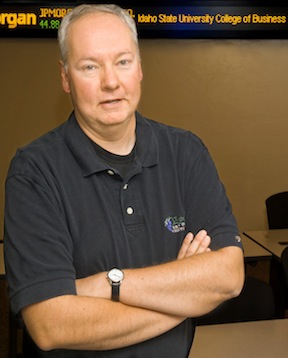 "It is an honor to be invited to participate in the program at Reykjavík University," Byers said. "The students have been great, with backgrounds ranging from accounting to engineering to software design to film acting."
Byers joins faculty from London Business School, the University of Toronto, Boston University, the University of Navarra, Texas A&M University, the University of Western Ontario and many others in delivering the MBA program at Reykjavik University.
He has been able to teach in the program while maintaining his normal faculty duties at ISU because classes in Reykjavik University take place in the form of compressed modules from Thursday to Saturday.
Byers completed teaching the first of two three-day modules earlier this spring and traveled back to Iceland in mid-April to finish the course.
"It is fantastic getting first-hand experience with Icelandic and European financial issues," said Byers, "many of which I will be able to incorporate into classes here. Plus, it is always nice to be able to provide some additional international exposure for ISU."
Byers, who graduated from Indiana University with a doctor degree in finance, is an award-winning teacher in ISU's Masters of Business Administration program.
###
---
Categories: