Idaho State University biological sciences Professor Terry Bowyer elected to Honorary Membership in the Wildlife Society
July 18, 2013
ISU Marketing and Communications
Idaho State University biological sciences professor Terry Bowyer has been unanimously elected to Honorary Membership to the Wildlife Society.
Honorary Memberships are intended to recognize continuous outstanding service to any area or areas of concern to The Wildlife Society. Any practicing or retired wildlife professional that is a member of The Wildlife Society and has made continuing valuable contributions to the wildlife profession over a long period of time is eligible for nomination. The Wildlife Society has been awarding one to four of these awards annually since 1938.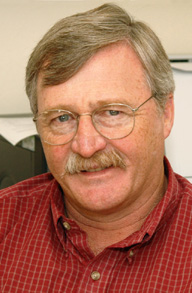 "I am honored to have received this award," Bowyer said.
Bowyer has more than 30 years of experience as a wildlife professional, and has studied the ecology, behavior, conservation, and management of large mammals in a variety of environments across North America.
His bachelor and master's degrees are from Humboldt State University, and his doctorate is from The University of Michigan. He has held professorial positions at Unity College in Maine, the University of Alaska Fairbanks and Idaho State University, for the last nine years, where he is currently a professor of ecology.
Publications by Bowyer tend to be at the interface of theory and application.
Over his scientific career, he has amassed a total of 193 publications, most in peer-reviewed journals. Of those publications, 10 are in the Journal of Wildlife Management, five in the Wildlife Society Bulletin, and four are Wildlife Monographs. His research is very collaborative, and many publications have multiple authors, which often have included current or previous graduate students. He has seven papers with more than 100 citations; in total, his publications have been cited 3,670 times, as determined from Web of Science. The influence of his publications is far reaching.
He also has been involved in more than 400 presentations at professional meetings. He has won four Outstanding Publication Awards from the Wildlife Society.
His research on large mammals has spanned much of North America, with several publications from international study sites. He has been involved in research that has included various habitats in California, Maine, Oregon, South Texas, Colarod, Utah, Minnesota, South Dakota, Idaho and Alaska.
These studies have provided him with a broad perspective on wildlife and the habitats necessary to sustain them.
The Wildlife Society is committed to a world where humans and wildlife co-exist. It works to ensure that wildlife and habitats are conserved through management actions that take into careful consideration relevant scientific information.
###
---
Categories: