Film Showing, Panel Discussion of Documentary "Grow!" Set Feb. 21 at ISU
February 8, 2013
ISU Marketing and Communications
A special free screening and panel discussion of the new documentary film "Grow!" will be held from 7 to 9:30 p.m. Feb. 21 in the Idaho State University Pond Student Union Salmon River Room.
This award-winning film chronicles the experiences of 20 young farmers in the state of Georgia who explain what inspires them to work the land. The film raises awareness of sustainable agriculture and the level of environmental activism among the Millennial Generation.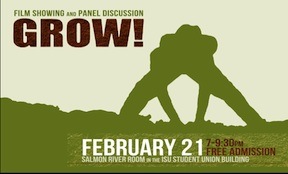 When the hour-long film has finished a panel of young farmers and scholars will discuss the pros and cons of modern agrarian life. The panel, moderated by Curt Whitaker, ISU associate professor of English and Portneuf Valley Audubon Society board member, consists of Steven Hall, an ISU doctoral candidate in English; Kamren Koompin, farm manager at Koompin Farms; Jessica McAleese, LadyBird Farms; and Jeremy Shreve, LadyBird Farms.
"Grow!" has won several awards including winner, 2011 Best American Documentary, Rome International Film Festival; winner, 2011 Focus Award and 2011 Best of Category, Montana CINE International Film Festival; winner, 2011 Best Documentary Short, Asheville Cinema Festival; winner, 2011 Audience Chose, Atlanta DocuFest; 2012 Documentary Runner-Up, Macon Film Festival; and winner, 2012 Best Feature, Colorado Environmental Film Festival.
This event is co-sponsored by ISU's Department of English and Philosophy, the English Graduate Student Association and the Portneuf Valley Audubon Society.
More information on the film is available at http://growmovie.net/.
###
---
Categories: