Celebrate Idaho State event March 19 expanded to include Idaho Science and Engineering Festival, Tech Expo
February 14, 2013
ISU Marketing and Communications
The third annual Celebrate Idaho State, a CommUniversity event, will feature more than 100 groups providing a variety of free food, entertainment, art, culture, information, and scientific displays and demonstrations from 4 to 7 p.m. March 19 at the ISU Pond Student Union.
This year's event incorporates the Idaho Science and Engineering Festival and the Idaho State University College of Technology's Tech Expo evening program.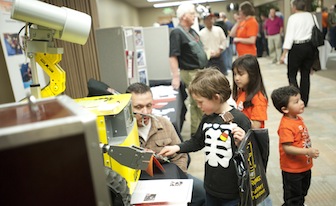 "Idaho State University and the communities of Southeast Idaho are closely linked and we again want to celebrate that relationship," said Valorie Watkins, Celebrate Idaho State co-chair. "This year's expanded event invites the community to come to Idaho State University to learn more about this great educational institution and cultural center, and to enjoy free food and entertainment."
ISU is inviting adults, children, families, businesses, organizations and everyone in surrounding communities to come to campus. CommUniversity is a joint effort by volunteers from local communities and Idaho State University to connect, support, and foster a strong spirit of mutual support, according to organizers. Parking for the event is free at the Pond Student Union and Frazier Hall parking lots.
Events planned are too many and too varied to list here, but highlights include:
• Dozens of Idaho Science and Engineering Festival scientific and educational exhibits, geared towards children and their families;
• More 20 ISU College of Technology booths where the public can learn about that college's many programs;
• Free food, which will be served beginning at 4 p.m., includes hotdogs, ice cream, lemonade and a potato bar;
• Performances by students from ISU music and theater departments;
• Appearances by ISU athletes and spirit squads;
• Tours of Idaho Museum of Natural History exhibits;
• Announcement of three Celebrate Idaho State $1,000 scholarship winners; and
Besides interactive booths and displays, science-themed songs, dances and art, the Idaho Science and Engineering Festival is sponsoring a number of contests for children of all ages, including an Egg-Drop Contest and a Catapult Building Contest.
The Idaho festival is a satellite event of the national USA Science and Engineering Festival held in Washington, D.C., in even numbered years in April. There are also concurrent satellite science and engineering festivals taking place throughout the United States, but ISU's festival is the only one scheduled in the Intermountain West. For more information on the ISU Science and Engineering festival, visit www.isu.edu/ISEF, email idahosef@isu.edu or contact Jean Pfau at 208-282-3914.
The Tech Expo highlights business, industry and educational opportunities in the region while promoting professional technical education. There will be dozens of interactive displays demonstrating ISU College of Technology programs, and related educational, business and industry opportunities in the area. For more information on the Tech Expo contact Stuart Summers, 282-3216 or summstua@isu.edu.
For more information on Celebrate Idaho State, contact Valorie Watkins, 238-1278, or the ISU Office of Marketing and Communications, 208-282-3620 or taylandy@isu.edu.
###
---
Categories: