Stepping back in time Idaho State University period fashion show supports gala event
November 26, 2013
ISU Marketing and Communications
It was a full house at Treasure's Formal Bridal and Tuxedos in Pocatello Thursday night as the community and local businesses came together to support the students of Idaho State University.
The formal wear store held a period fashion show with live models showing off elegant evening wear to generate excitement for ISU's Great Gatsby-themed New Year's Eve Gala.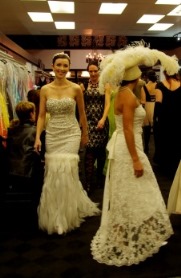 "Everything went really smooth and everyone had a really great time," said Kathy Reed, manager of Treasure's in Pocatello for the past nine years.
The proceeds of the gala on Dec. 31 will go toward scholarships for ISU's visual and performing arts students.
Reed praised the camaraderie shown not only by those who attended Thursday's fashion show but by other Pocatello businesses as well. Cynthia Louise Boutique and Muse Apparel joined forces with Treasure's to help make the evening a success.
"They pulled out all the stops," said Vanessa Ballam, assistant professor of theatre and dance at ISU and model for the event.
Ballam was impressed by the way some ISU faculty members and others stepped out of their comfort zones to serve as models in the show, for the benefit of the university's students."To see the dean of the College of Arts and Letters walk down the runway was a major coup," she said.
Ballam said she was grateful for how accepting the community has been of what ISU is trying to accomplish. "The air was abuzz with elation and excitement about the gala," she said. "People could not stop talking about it."
"It was marvelous," Reed said, "Everyone got some great ideas on how to dress (for the gala)."
Tickets to the gala are $150. Those interested can call 282-3207.
###
---
Categories: