Research conducted by ISU Professor Meyers results in finding a safer alternative for collegiate women's soccer fields
September 10, 2013
ISU Marketing and Communications
Idaho State University Associate Professor of Sports Science and Physical Education Michael Meyers released research findings that concluded there is a significantly lower injury rate for collegiate women's soccer athletes playing on FieldTurf versus natural grass.
The analyses also indicated fewer injuries on the artificial turf when comparing injury time loss, player position, injury grade, injuries under various field conditions and temperatures, cleat design and turf age. Meyers evaluated female soccer players from 13 universities over five competitive seasons. A total of 797 collegiate games were evaluated with 355 games played on artificial turf and 442 games played on natural grass.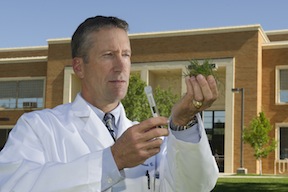 For more than 40 years, researches have attributed a greater risk of injury to playing on artificial turf when compared to natural grass. However, over the past two decades, synthetic surfaces such as FieldTurf, which consists of polyethylene fiber blended with graded silica sand and cryogenically ground rubber, have been further developed to simulate playing characteristics of natural grass.
"My main goal is to minimize athletic trauma, especially for adolescents," said Meyers. "I want parents, coaches and school administrations to be aware of playing surfaces and to use this research to make more informative decisions."
A total of 693 injuries were reported, with 272 occurring on artificial turf and 421 occurring on natural grass. Meyers' study is the first that looked at FieldTurf age in regard to injury, as well as elective imaging and surgical procedures as a result of injury. According to the research, 33 percent fewer injuries were documented on new FieldTurf surfaces versus natural grass. Sixty-four percent fewer injuries were reported on FieldTurf surfaces that were eight years or older versus natural grass (sod) of the same age. From a clinical standpoint, 33 percent fewer radiographs and 17 percent fewer surgical procedures were ordered following injury on FieldTurf versus natural grass, consistent with the significantly lower incidence of serious trauma on the artificial turf. Findings also indicated a 44 percent lower injury rate regarding high ankle sprains, 36 percent lower rate of extremity ligament tears, 18 percent fewer anterior cruciate ligament (ACL) and associated tissue trauma, and 30 percent fewer fractures reported on FieldTurf versus natural grass, respectively.
"From an environmental standpoint, using FieldTurf also has more benefits," said Meyers. "Natural grass requires a larger staff to maintain it, and tremendous amounts of water, pesticides, herbicides, and fertilizer, especially in arid places like Idaho. When you add up what you have spent maintaining natural grass over an eight-year period, it's more expensive when compared to FieldTurf."
With any long-term study, gathering and analyzing findings on 154 variables and over 4 million bits of data, as well as tracking teams and coordinating efforts across the country over extended periods of time is a continuous, year-long challenge. Meyers has also conducted artificial turf research on football involving 51 high schools in four states over the last eight years and similar research regarding NCAA men's soccer over the last six years. The data for men's soccer is set to be announced next year.
"Without sports medicine professionals, especially the athletic trainers, these studies would not be possible," said Meyers. "These individuals are truly dedicated in searching for the ideal surface to minimize trauma."
Meyers' research was partially funded by FieldTurf and through additional laboratory funding sources. For more information on this research visit The American Journal of Sports Medicine at bit.ly/1dN3H5n.
###
---
Categories: