Pocatello native wins Idaho State University's holiday card art contest
November 26, 2013
ISU Marketing and Communications
Idaho State University's annual holiday card art contest was won by Pocatello native Karma Morgan this year. Morgan, a sophomore studying biology, won with a colored-pencil drawing of ISU-themed ornaments hanging from a Christmas tree with twinkling lights.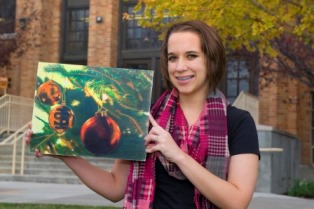 "I love sitting by the Christmas tree with the tree lights turned on during the holiday season. I wanted to illustrate that cozy feeling you get during the holidays with this piece," Morgan said. Morgan took several art classes in high school and now continues to draw for fun.
The contest's runner-up was Dylan Childress, who submitted a snowy scene of the Pond Student Union. Childress is pursuing a Bachelor of Fine Arts degree and is from Idaho Falls.
"I wanted to do a piece that ISU staff members and students could identify with, and that is why I chose to do the SUB and Red Hill," Childress said.
Morgan won a $1,000 prize for her entry. Childress received $500 as runner-up.
---
Categories: