Idaho State University's "A Season of Note" to present The Fab Four Beatles Tribute Oct. 18
September 19, 2013
ISU Marketing and Communications
Idaho State University's "A Season of Note" will present The Fab Four, a Beatles Tribute, at 7:30 p.m. Friday, Oct. 18, in the Jensen Grand Concert Hall at the Stephens Performing Art Center.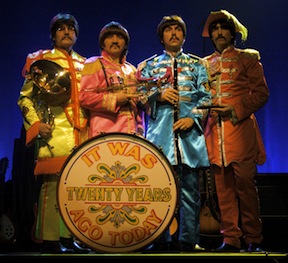 The Fab Four is elevated far above every other Beatles Tribute due to their precise attention to detail. This loving tribute to the Beatles has amazed audiences around the world including Japan, Australia, France, Hong Kong, The United Kingdom, Germany, Mexico and Brazil. Hear record-perfect live performances of such classics as, "Can't Buy Me Love," "Yesterday," "A Day in the Life," "Twist and Shout," "Here Comes the Sun," and "Hey Jude."
Ticket prices for the Fab Four are $28 for lower level and $24 for upper level seating. Tickets can be purchased at the Stephens Performing Arts Center Box Office, open Monday through Friday from 10 a.m. to 4:30 p.m. during the school year.
Tickets can be purchased over the phone at (208) 282-3595 or online at www.isu.edu/tickets. They can also be purchased at Vickers Western Stores in Pocatello or Idaho Falls and at the Pond Student Union Building. The Stephens Performing Arts Center Box Office is open one hour prior to show times.
For more information on this group visit www.thefabfour.com.
###
---
Categories: