Idaho State University to present renowned flutist, recorder player Horacio Franco in a special concert Nov. 20 at the Stephens Performing Arts Center
November 4, 2013
ISU Marketing and Communications
Idaho State University and the Consulate of Mexico in Boise will present a concert by one of the most respected flutists and recorder players in the world, Horacio Franco on Wednesday, Nov. 20, at 7 p.m. in the Stephens Performing Arts Center's Jensen Grand Concert Hall.
Franco is one of Mexico's most successful classical musicians, also performing contemporary and popular music, with an international reputation based on a 30-year career as a soloist and conductor.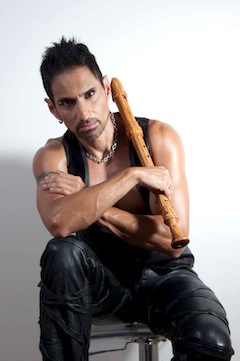 He has toured throughout Mexico and Central and South America, the Antilles, United States, Canada, United Kingdom, Scandinavia and most countries in Western Europe, Lithuania, Israel, Morocco, Egypt, Kenya, Tanzania, South Africa, India, Thailand, Malaysia, Indonesia, China, Korea and Japan. With all his tours as a recorder player and as a conductor, Franco has represented the culture and thinking of modern Mexico with enormous success.
Franco has transformed the vision of the recorder – usually considered a school or amateur instrument – into a professional one. He has more than 25 recordings in Mexico and more in Europe and Israel. Franco has had outstanding performances as a soloist of major orchestras throughout the world and participated in many important concerts, in openings for world expos, festivals and other important occasions.
He has attracted a large following of young fans from all social classes using a pop star image unusual for the classical music, attempting to change the way people approaches classical concerts making them more attractive, especially to young people.
The concert is supported by the FM, Anne G., and Beverly B. Bistline Foundation in the Idaho Community Foundation. Donations will be accepted, but admission is free with general seating.
###
---
Categories: