Idaho State University theatre and dance students prepare for upcoming gala
December 19, 2013
ISU Marketing and Communications
Theatre and dance students are planning a variety of performances for the inaugural Idaho State University New Year's Eve Gala.
All proceeds from the gala go to scholarships for the university's visual and performing arts students. Faculty members said they were overwhelmed by student' support and enthusiasm for the event.
"It's a testament that the students are behind Dean Kandi Turley-Ames and appreciate her efforts on their behalf," said Vanessa Ballam, assistant professor of theatre and dance.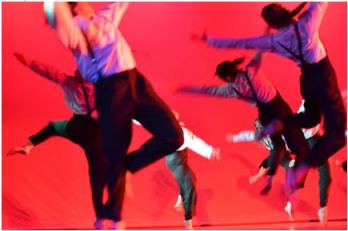 The Comedy Project will perform in the Beverly B. Bistline Theatre of the Stephens Performing Arts Center at 7:30, 8:30 and 10 p.m. Their performance will include ad-libbing scenes and stopping periodically to ask for suggestions from the crowd on how the story should progress.
In between the Comedy Project's performances, intermediate and advanced theatre students will act out some of the stage's best written scenes at 8 and 9 p.m.
"Theoretically you could stay in the Bistline from 7:30-10 p.m. and see a huge variety of entertainment," said Ballam. "There will be scenes from Shakespeare, Tennessee Williams, Arthur Miller, Clifford Odets, William Inge as well as some more contemporary playwrights."
Faculty members Laurelee Zimmerly, Molly Jorgensen, Lori Head and Lindsay Tucker are each in charge of a group of student dancers for the evening. Groups will perform a variety of dance styles ranging from tap to ballroom.
"I think each of us can add a little flavor to the whole event," Zimmerly said. "I just think this is a perfect occasion to draw people in for this spectacular event."
Tickets to the gala are $150 each. Those interested can purchase theirs by contacting Gretchen Jensen at 282-3207.
###
---
Categories: