Idaho State University Rupp Debate Team to host CEDA Nationals, largest intercollegiate national debate championship, March 22-26
November 20, 2013
ISU Marketing and Communications
A group of 23 Idaho State University students are gaining valuable experience planning and coordinating all aspects of the Cross Examination Debate Association (CEDA) National Championship at the ISU Pocatello campus March 22-26.
The event, hosted by the ISU James M. & Sharon E. Rupp Debate Team, features 150 individual debate teams that will battle it out on campus to be named the best in the nation. This is the second time in four years that Idaho State University will host the CEDA national tournament, the largest intercollegiate national debate championship.
The five-day event will bring approximately 500 participants from 60 universities such as University of Southern California, Cal Berkeley, Kansas, Wake Forest and Harvard to Pocatello for the five-day event. The CEDA tournament is often referred to as "the people's tournament" because of the diversity and number of attendees.
Teams will debate the question of whether the United States Federal Government should reduce restrictions on and/or substantially increase financial incentives for energy production in the United States of one or more of the following: coal, crude oil, natural gas, nuclear power, solar power, wind power.
ISU students are playing a crucial role in making the tournament happen. To maximize connections between real-world experiences and academic learning, ISU Professor Sarah Partlow Lefevre, director of ISU debate, is offering an internship-type class in which the students are able to gain valuable experience in planning and coordinating events at the CEDA tournament. Students have used skill sets including graphic design, party planning, hotel liaison and many more.
"It gives us a great chance to showcase the multitude of skills our students have," said Partlow Lefevre of the CEDA planning internships. "It is a great opportunity for students from a variety of disciplines to add to their resume and gain practical leadership and group experience."
A mix of undergraduates and graduate students, the team members from the fields of communication and mass communication are Aubrey Lackey, Anne Johnson, Robyn Hemmert, Eric Roe, Neisha Tuckett, Samantha Richardson, Jordan Peterson, Brigham Larsen, Kathleen Brown, Craig Garnette, Tabor Kluza, Dedra Behrendt, Jim Kluza, Hillary Eldredge, Zachary Sayles, Luke Romero, Drake Taylor, Carl Anderson, Willow Moline, Neal Anderson, Janen Wright, Debbie Hough, Genelle Weimer and Jackie Cervantes.
"When all is said and done, the team will have spent approximately 2,700 hours working to provide a great experience for all 500 participants," Partlow said.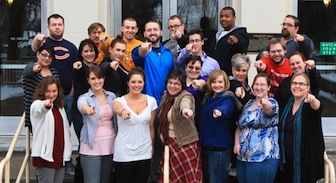 Hotel liaison, Hillary Eldredge is a graduate student who is currently teaching in the human resource department at ISU and completing her master's degree. As the primary hotel liaison, she has gained experience coordinating the budget and negotiating the hotel contract. Additionally, she has worked on the creation and maintenance of digital folders, filters, and the class Moodle page. She has also served a group leadership and coordination role.
"It has given me a safe environment to test my skills and competencies and the confidence to deal with real world complexities and find viable solutions," Eldredge said.
Another group leader, James Kluza, is currently a mass communication major with an emphasis in TV production. He is the video production coordinator for this event, in charge of the team arranging and producing all aspects of the video including live webcasts at the debates.
"This internship has given me experience in live broadcasting, planning, and management and it is very beneficial," Kluza said.
Luke Romero is leading the public relations and fundraising group, which raised more than $3,100 in cash and merchandise sponsorships from local businesses. Romero is a communication and rhetorical studies major with an organizational emphasis.
"This internship has provided me with insight into proper motivational management and team building and allowed me to expand my communication skills," Romero said.
The event is sponsored by the ISU College of Arts and Letters, the Department of Communication and Rhetorical Studies, The Rupp Debate Team and several local businesses.
"The College of Arts and Letters has been investing in research and academic activities that enhance the College's productivity and visibility," said Kandi Turley-Ames, Arts and Letters Dean. "The College is very pleased to host this national event again."
Jim DiSanza, chair of the Department of Communication and Rhetorical Studies said, "The tournament is going to bring several hundred thousand dollars in direct financial return to the community."
For pictures and more information access the tournament Facebook page at https://www.facebook.com/ceda2013.
###
---
Categories: