Idaho State University Professor Thomas probes question 'Can genetic engineering be used to help endangered species?'
September 27, 2013
ISU Marketing and Communications
Weighing the pros and cons of using genetic engineering to help save endangered species is explored by Idaho State University Professor Michael Thomas and colleagues in article appearing in the Sept. 26 edition of the journal Nature.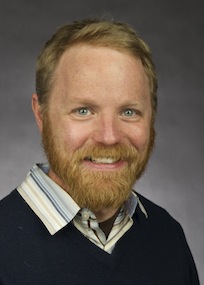 Thomas, in the ISU Department of Biological Sciences, and coauthors note that 15 to 40 percent of animal species are predicted to become extinct by 2050. In a Comment piece "Gene Tweaking for Conservation" appearing in Nature, those authors say that it is just a matter of time before conservationists apply the genetic engineering approach to safeguard biodiversity because the techniques used to transfer genetic material are becoming more sophisticated.
"In many ways, this is a terrible idea: it would be difficult, expensive, and beset by unintended consequences," said Thomas, one of five 2012-13 ISU Outstanding Researchers. "We'd be much better off focusing efforts on saving habitat and reversing the causes of habitat loss. In many ways, this is like open-heart surgery, however. Preventative medicine is always better, but sometimes you need to save the patient."
Thomas emphasized that he and the other authors are not endorsing this practice, but it is a topic that merits discussion. He cautioned that even the possibility of using genetic-engineering tools to rescue biodiversity, what the authors term facilitated adaptation, might encourage inaction with regard to climate change. For some species, however, genetic engineering "could turn out to be the only viable remedy."
There are myriad practical challenges in finding appropriate target genes to move between populations of the same species, or even between different species, to avert extinction of a threatened population. Moreover, the effects of moving material to a different environmental and genetic context will be hard to predict.
In cases where one or a few genes have a substantial impact on a trait of interest — for instance, by conferring resistance to a fungal disease — such genes might make excellent targets for transfer.
Co-authors on the project included Gary W. Roemer, C. Josh Donlan, Brett G. Dickson, Marjorie Matocq and Jason Malaney.
###
---
Categories: